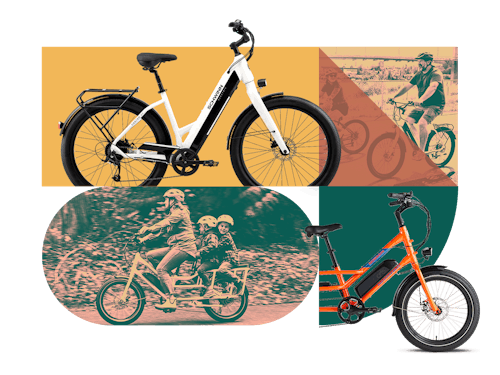 The electric bike revolution is finally here. E-Bike sales are outpacing electric car sales around the world, and because of their greater numbers, they have the potential to do more to reduce pollution and traffic congestion than electric cars. Viewed simply as recreation tools, electric bikes for adults may seem expensive. But as electric vehicles, they're a bargain. And because it's so much faster and more convenient to charge an E-Bike than an electric car, they may be the best bridge to our electric future while we await widespread car charging infrastructure.
With so many options, it can be difficult to differentiate the best classes and features for your needs. Do you want to take it on a bike path? Then you better buy one that is classed for that. Then again, if you're looking to do a serious commute in the bike lane and on major roads, you probably want one built for covering serious distances. Do you plan to carry kids on the back? A Surfboard? Food deliveries? Then you need to focus on weight capacity and cargo space.
We looked at E-Bikes across various designs, classes, and use cases. They were evaluated in terms of design, value, ideal use, brand longevity, terrain, and portability, among other factors. We settled on these five bikes, which cover a wide range of categories and budgets to help you make a purchase you'll be very happy with.
Before You Buy: Understand The Classes of E-Bikes
It's important to understand E-Bike classes and top speeds before you go shopping. Otherwise, you may end up with a bike you aren't allowed to take on your favorite route. Here's a breakdown:
Class 1 bikes: These rides have pedal assistance to a top speed of 20mph, but no throttle, so you must keep pedaling. They're allowed on multi-use bike paths with analog bikes. The VanMoof S3 below is an example of a Class 1, though it has a Boost button that can be used for a short burst of power.
Class 2 bikes: They have a throttle and pedal assist, a 20mph top speed, and are also generally allowed on bike paths with analog bikes.
Class 3 bikes: These do not have a throttle and are speed limited to 28mph. They are generally not permitted on multi-use paths, and in some states, you must be 18 to ride one, but you are allowed in bike lanes and on roads without any additional insurance or license.
And just remember: Regulations vary by location, so before investing in an E-Bike, it's important to investigate what restrictions apply in your area.
5 Excellent E-Bikes For All Types of Riders
S3
With its slew of smart features, automatic gearing, and a design that integrates battery, display, and lights into the frame itself, the VanMoof S3 is the best E-Bike for most riders. With the companion app, you can track your bike via GPS if it gets stolen, remotely lock or unlock it, and set your pedal assist level. The bike also uses your phone to know when you're approaching it and turns on automatically with lights and a noise that channels K.I.T.T. from Knight Rider. (Yeah, it's cool). Outside the app, you can unlock and adjust the speed with a touch-sensitive display integrated into the bike frame, which also displays speed and assist level. There's no throttle, which makes this a Class 1 bike, but there is a "Boost" button near the right-hand grip, which delivers a short burst of power when you need it.
Key Specs
Top Speed: 20 mph; Max Range: 93 miles; Full Charge: 4 hours; Weight: 46.3 lbs.
VanMoof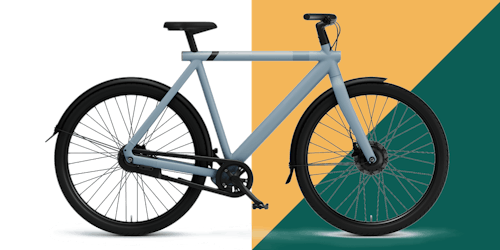 Ultimate C380+ HMB
Gazelle bikes have a long history and stellar reputation in their native Netherlands. This model reaches a top speed of 28mph, but it does not have a throttle, only pedal assist, making it a Class 3 bike. The unique mid-drive motor has the benefit of being able to adjust torque and power based on what gear you're in. The C380+ has continuously variable gearing, meaning there are no numbered gears but a continuum of minute increments from low to high. The battery is integrated into the frame but can be removed for easy charging, and it uses a belt instead of a chain, which adds years of longevity. The mid-drive motor is louder than the hub motors, but the sound was easy to get used to. All in all, this is a fast bike for cyclists who want to use their legs, and not just sit on a bike with their thumb on the throttle.
Key Specs
Top Speed: 28 mph; Max Range: 55 miles; Full Charge: 5-9 hours; Weight: 55.6 lbs.
Gazelle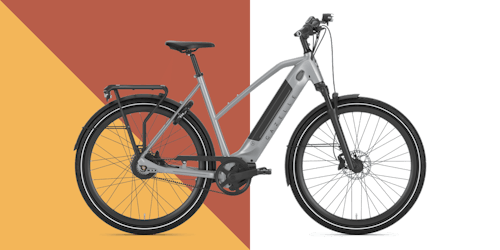 RadWagon 4 Electric Cargo Bike
The RadWagon 4 is the minivan of the E-Bike world and can be configured to carry kids or a variety of cargo weighing up to 350 lbs. The rear rack is integrated into the frame, which makes it very secure. Customization is the name of the game here, as you can add accessories like extra seats, running boards, passenger bars, or even a canopy top. Riding is great fun. The 750-watt motor quickly reaches the Class 2 top speed of 20mph, even when the bike is loaded with cargo or passengers. The frame has a low center of gravity for safe maneuverability when laden with cargo, and its low step-over height also makes it unisex. The custom fat tires compliment the bike's low ride and can handle various terrains, making this a great alternative to a second car for school pickups and drop-offs.
Key Specs
Top Speed: 20 mph; Max Range: 45 miles; Full Charge: 3-7 hours; Weight: 76.7 lbs.
Rad Power Bikes
Sinch Step-Through
Aventon's Sinch folding E-Bike stands out because you can take it both on and off-road, thanks to the fat tires and sturdy build. At 68 pounds, it's on the heavy side, but foldability reduces its footprint when it comes to storage and transportation. It is unisex (or uni-height) because of the low stand-over height, so riders of different sizes could easily ride it. A Class 2 bike with both pedal assist and throttle, the bike sports a 500-watt motor that tops out at 20mph. The battery is nicely integrated into the frame but can be removed for charging, and all the components feel premium: From the display to the handlebar grips to the gear shifters and even the keys, everything you touch feels like it belongs to a more expensive E-Bike.
Key Specs
Top Speed: 24 mph; Max Range: 54 miles; Full Charge: 4-5 hours; Weight: 68 lbs.
Aventon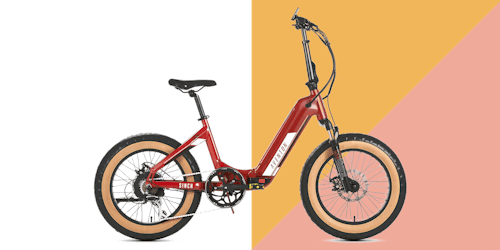 Schwinn Coston DX Step-Thru
The upright seating position of the Coston DX is very comfortable for extended rides without feeling hunched. It's a Class 2 E-Bike, with both a throttle and pedal assist, and it boasts a top speed of 20mph and a range of 45 miles. It's also very easy to assemble, which can't be said for all E-Bikes. Standard accessories include front and rear lights, fenders, and a rear rack. One unique standout feature is that the seat flips up, revealing a hidden compartment for your cell phone and wallet. The battery is sleekly integrated into the frame but is removable for charging.
Key Specs
Top Speed: 20 mph; Max Range: 45 mph; Full Charge: 5 hours; Weight: 59.4-60 lbs.
Amazon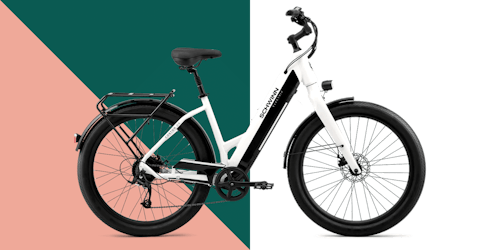 The Electric Bike Accessories To Make Your Ride Smoother
Full-face and locking helmets, GPS trackers, and tough bike locks will keep you and your investment safe.
Thousand Chapter MIPS Helmet
Thousand helmets offer a nice mix of retro form and modern function. The slim visor (particularly in tortoise) is stylish but functional. A magnetic rear light that charges via micro-USB is included, and the Thousand logo hides a removable cap that allows your bike lock to fit through, so you can leave the helmet locked to your bike instead of lugging it with you. It's certified MIPS, which stands for Multi-direction Impact Protection System, and is designed to manage energy from rotational or angular impacts.
Amazon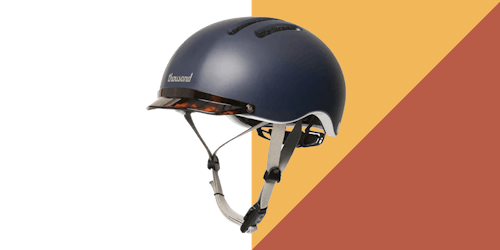 Smith Mainline MIPS Full Face Helmet
If you're riding a bike over 20mph, especially off-road, it's good to consider full face coverage. Smith's Mainline helmet is light, but offers full-face protection for your lovely mug, in case of a tumble. The visor is adjustable and comes with pads to custom-size it to your head. Because of the full-face aspect, consider rounding up on your size, then using thicker pads for the best (and least claustrophobic) fit. The Mainline is also MIPS certified.
Amazon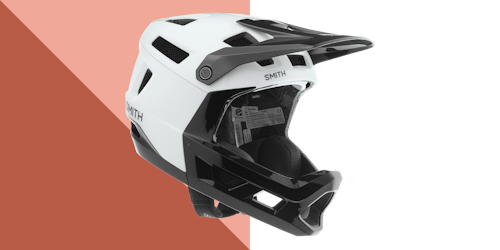 HUD-Y Urban Bike Helmet
Abus is a longstanding Dutch bicycle accessories brand known mainly for its locks. But this helmet is a standout. The HUD-Y looks like something Boba Fett might cycle in. It's cooler than a helmet needs to be, the slimmest-fitting helmet you'll ever try on, and yet it's engineered for maximum safety in the most harrowing urban environments. A magnetic rear light strip that charges via micro-USB and is integrated into the rear vent, so it doesn't stick out at all. The visor is adjustable, and the magnetic chin buckle is extremely easy to use one-handed.
Abus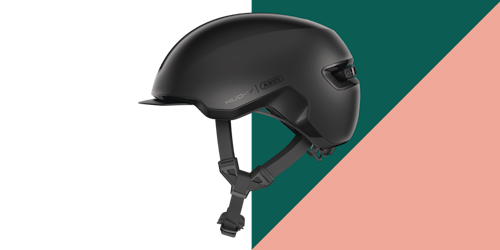 Kryptonite Evolution 790 Folding Lock
Kryptonite has been the king of bike locks for decades, and with the high value of E-Bikes currently driving the bike lock market to new innovations, there are new and better ways to secure your E-Bike these days. Some are designed specifically for those in big cities who leave their bikes parked on the street for extended hours. For general use in suburban areas where you won't be leaving the bike alone for more than a few hours at a time, the 790 Folding lock is a great combination of security and portability: it's compact, can be attached to your bike frame, and comes with a $2500 anti-theft guarantee.
Amazon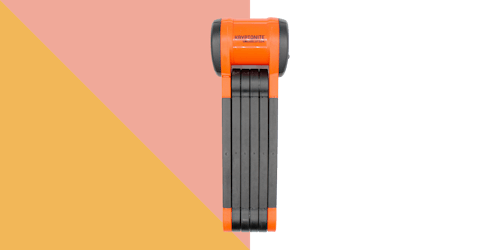 Rugged Keychain For AirTag
Electric bikes are pricey, which is why some of them come with GPS tracking to help you find them if they get stolen. If you don't buy an E-Bike with GPS tracking, an AirTag GPS tracker is a worthwhile investment. But you'll still need a secure way to attach it to the bike. If you apply this durable AirTag keychain to your bike, it will stay on regardless of how hard you ride or how bad the weather gets.
Nomad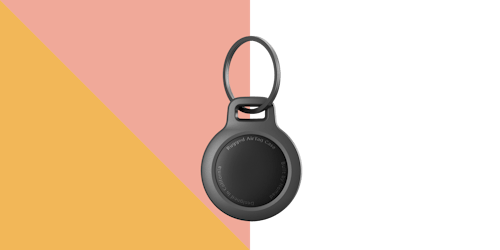 Out Front Bike Mount
Hands-free GPS navigation is critical if you're on a bike, and not all handlebar phone mounts are created equal. Freebie mounts that come with some bikes are sub-par, but this mount from Peak Design is serious. Made of light and strong machined aluminum, it locks both magnetically and mechanically to whatever case you may have. It also flips up if you want to record your ride and use your phone as both a navigation tool and action cam.
Peak Design