Haute Couture is steeped in tradition. The designers work with highly skilled artisans in so-called workshops or Metiers d'Art who work with embroidery, feathers, lace, using some of the same methods that have been in place for decades, and sometimes even a century. The clothes, shoes, and accessories that populate the runways take many hours to make by hand, to the exact measurement of the customer. The prices are beyond fashion's favorite price upon request. Their rarefied clients have very specific lifestyles and the clothes on the runways often reflect that: beautiful gowns, opulent wedding dresses, smart separates that can live in a boardroom or a luncheon. Oftentimes, it seems the clothes on the runways are having a different conversation with the real world than the conversations happening during ready-to-wear (which the designers also produce)or is it that they're having no conversations at all?
Looking at the spring couture collections, it's evident things are beginning to change. Is it because some of the stories maisons have recently had a change of guard that are interested in exploring beyond the tradition? Or is it that calls for inclusivity have started to seep in to the designer's subconscious and are now manifesting themselves in a different kind of couture fashion? Whatever it is, there was a sense of fun and modernity in the runways that feels very now.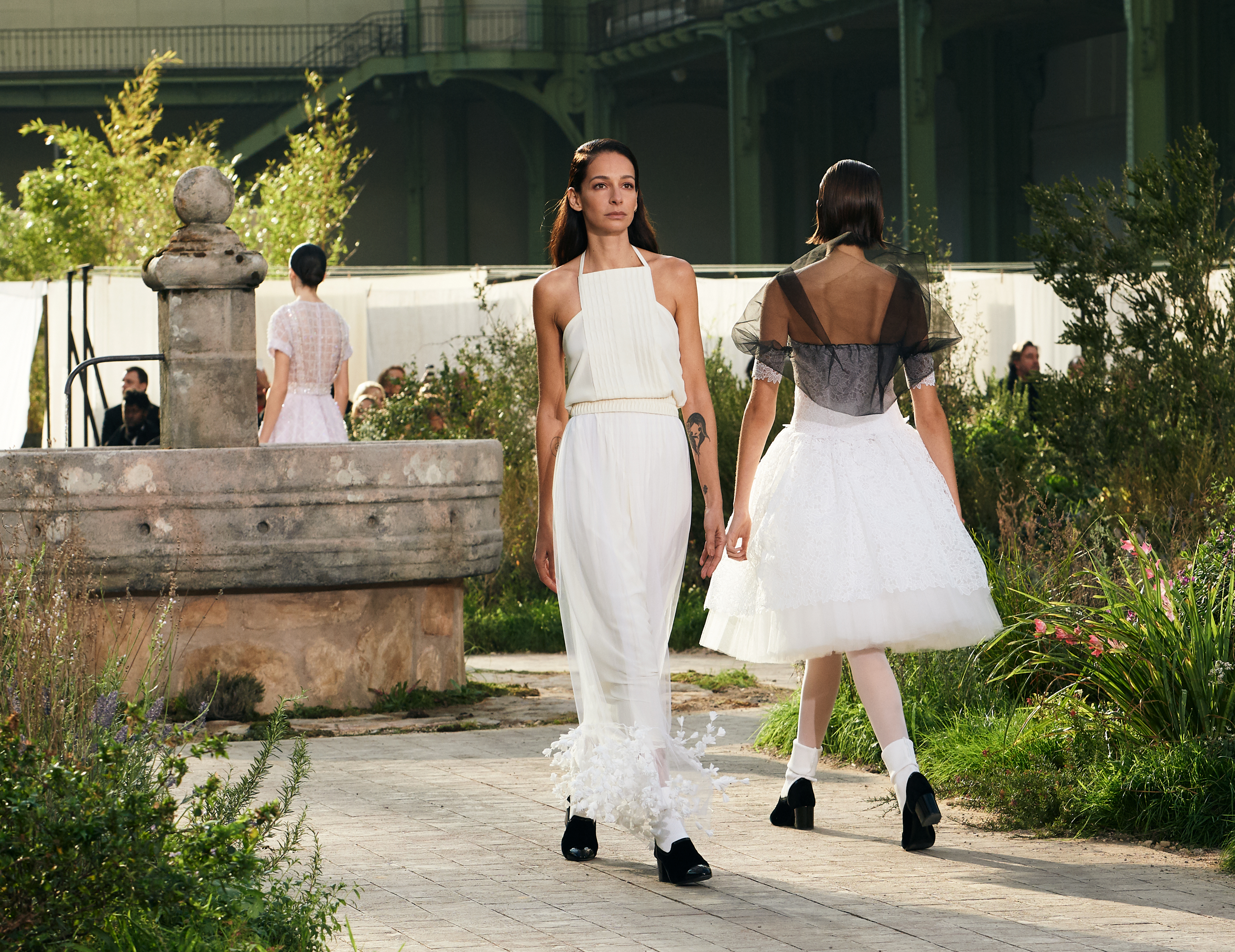 Courtesy of Chanel
At Chanel, Virginie Viard said she was thinking about youthparticularly Coco Chanel's time at a convent when she was 11 years old, and the stripped-down uniform she wore. Austere is an adjective seldom found in couture, but Viard happened upon a silhouette that is eminently wearable, and has a certain kind of charm in its simplicity. A silk blouse in off-white tones worn with a white skirt with a subtle feather detail at the bottom. The mis-matched whites take away a certain level of preciousness, as do the folded-down little socks, which somehow no longer read Lolita, perhaps because they are paired with awkward black cap-toe shoes that don't quite match the rest of the mood (and thus in contrast, make the perfect pairing).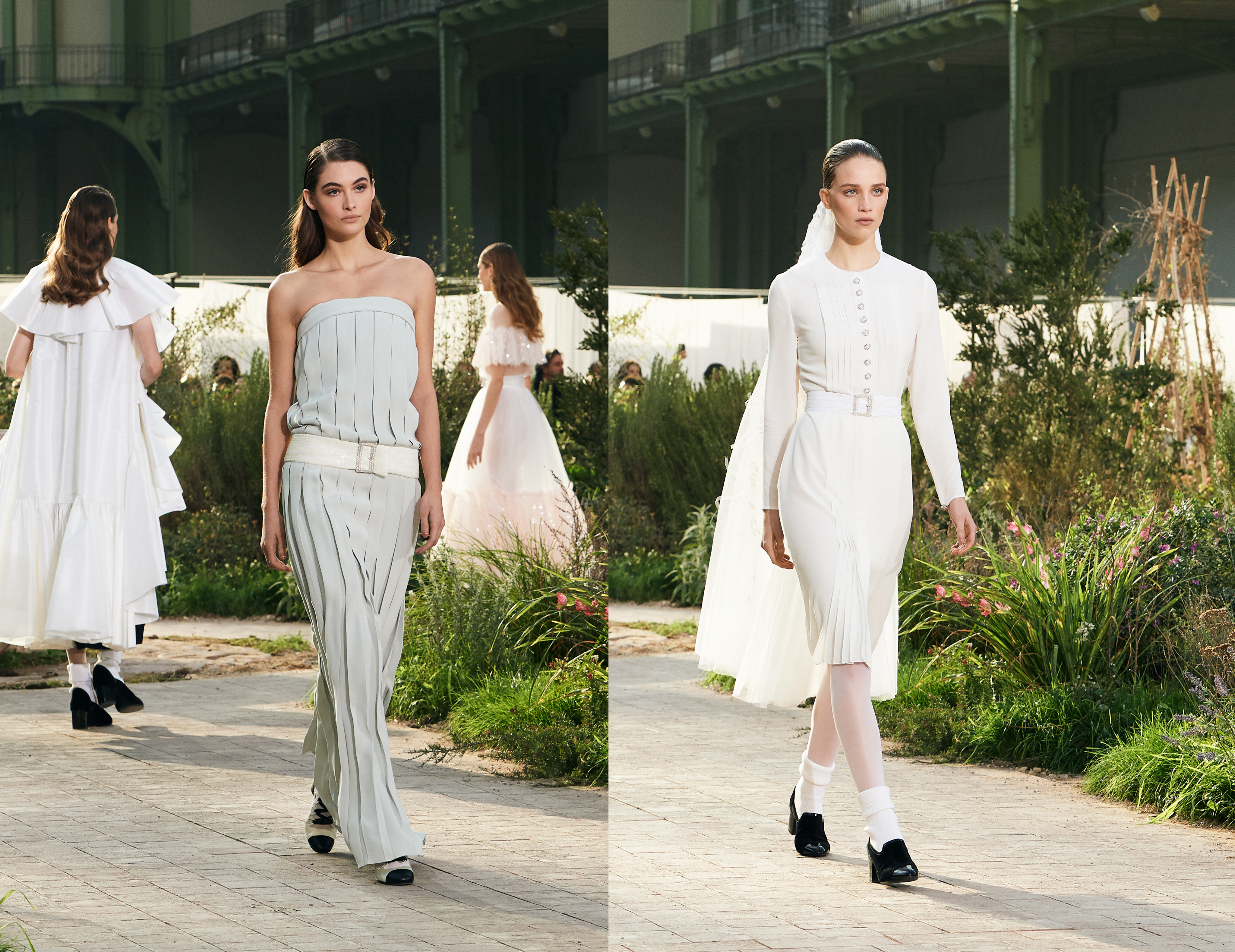 Courtesy of Chanel
A plated column dress in a light shade of cool grey worn with a low-slung belt carries a bit of swagger. It's less a convent vibe than it is a girl vacationing at the beach, throwing on a strapless dress and not thinking about it twice. More couture should feel like you can just throw it on and go, you know? Even the last look of the collection, the famed la marie, finds relevance in its pared-back simplicity.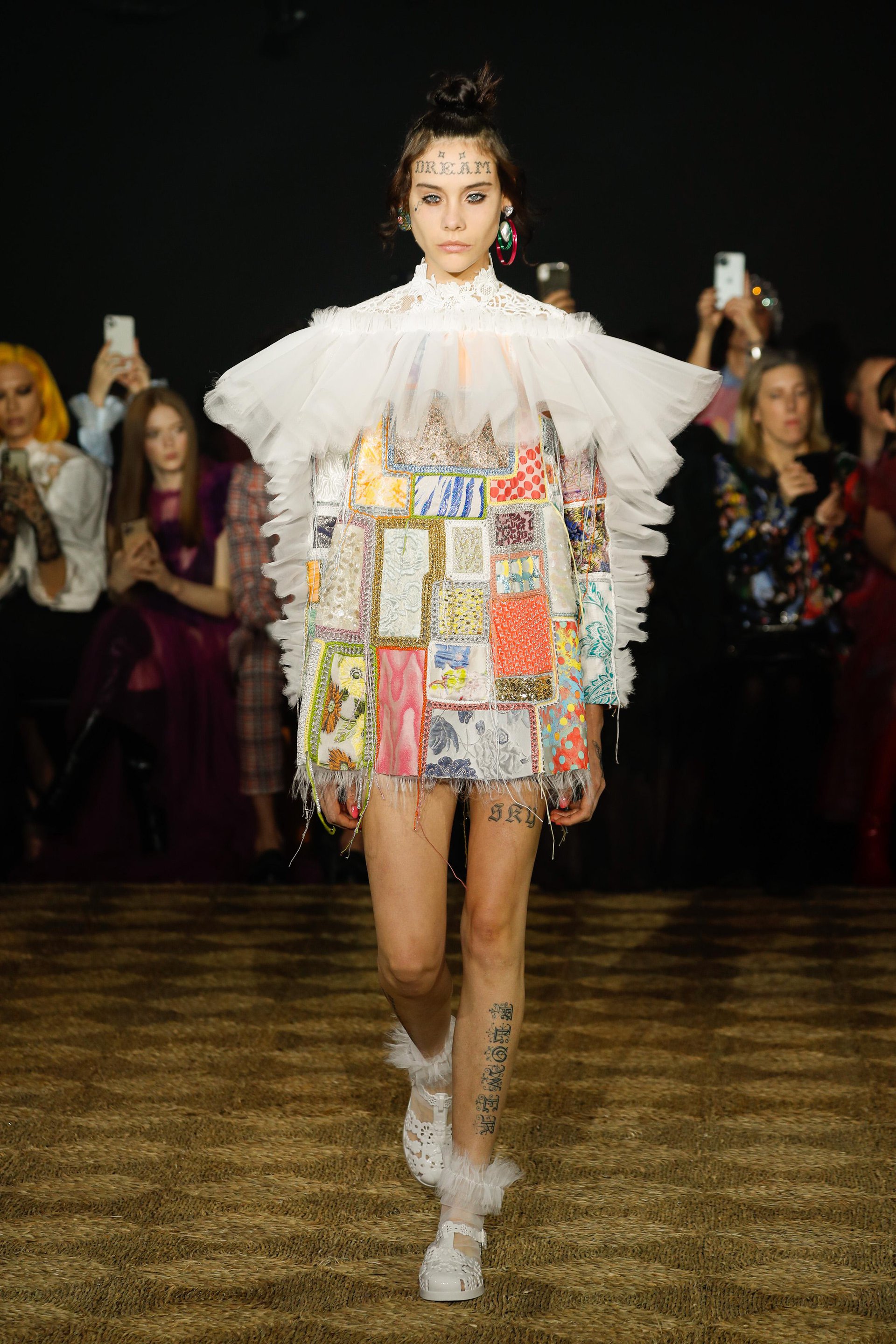 Courtesy Viktor & Rolf
Viktor Horsting and Rolf Snoeren have never been ones to subscribe to the status quo, but their last few collections have found them more actively interacting with youth culture (internet culture?), thinking specifically about how for last spring their runway was full of big tulle dresses adorned with messages across like "NO" and "Sorry I'm late, I didn't want to come." For spring, they were thinking about that other hot topic in fashion, sustainability, which led them to think of working with a large supply of fabric swatches they had in their studio. And of course patchwork inevitably leads to the Batsheva/Little House on the Prairie moment that the New York youtherati (is that a word? we are making it a word!) popularized. To drive the point home, they accessorized with tattoos most often seen on soundcloud rappersbut with positive messages. It's like a late 2010's madlibs that accidentally wins a Pulitzer.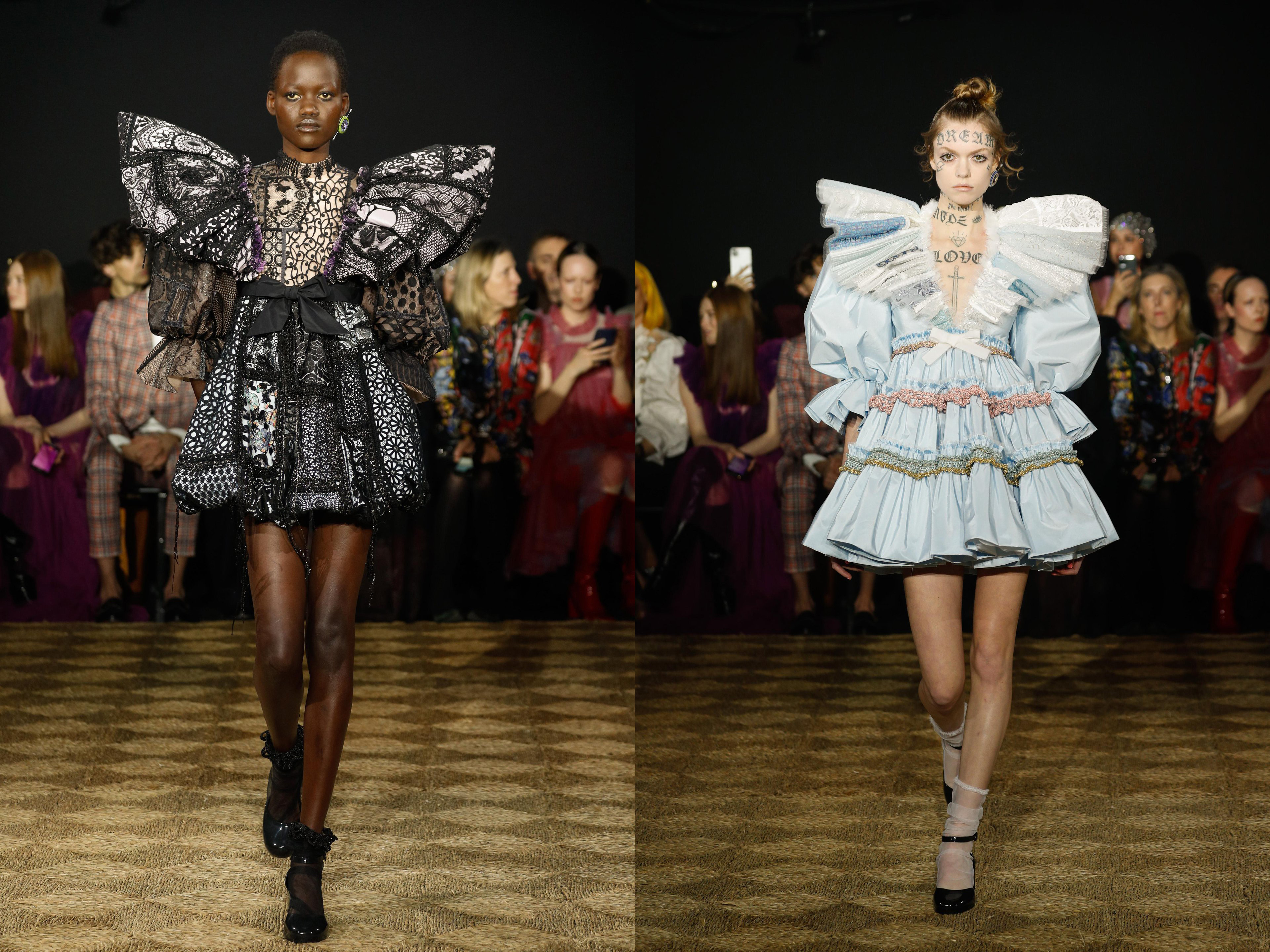 Courtesy Viktor & Rolf
But it wasn't all just horse girls and prairie living at Viktor & Rolf. A short dress made from black and white lace and embroidered swatches strikes a decadent goth-victorian edge that is all sex appeal. A babydoll dress done up in blue silk and decorated with rick-rack and a massive collar hits the exact kinderwhore look that has been so elusive during this trend's popularity. Of course we do have to ask, will fake designer tattoos become a thing?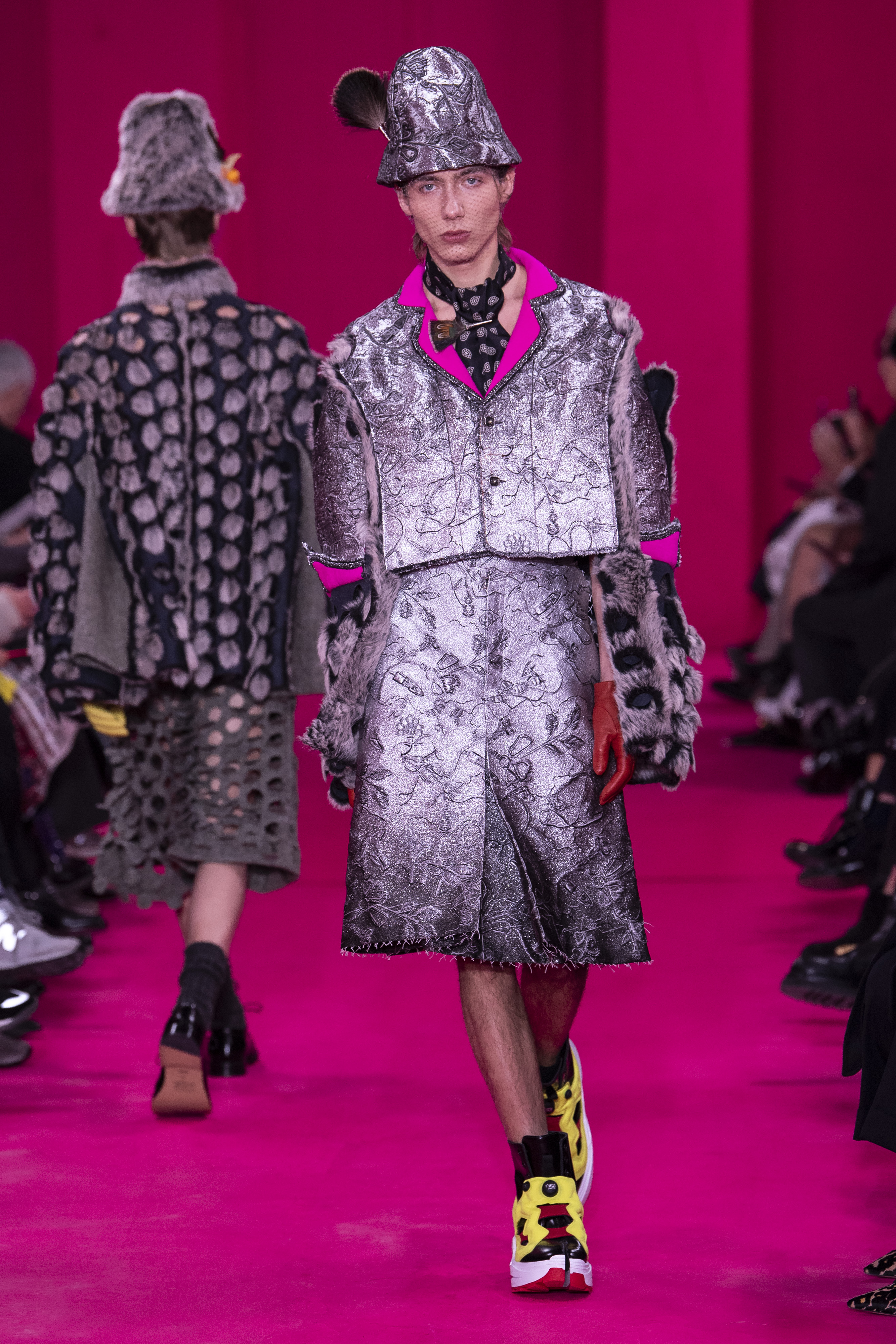 Courtesy Maison Margiela Artisanal
At Margiela, John Galliano has never been one to bother with the conventional, but what's most exciting is that his fantastical vision is increasingly more rooted in "real life" (whatever that is). A silver jacquard suit with fur details is paired with chunky sneakers in primary colors. Truly an ensemble fit for everyone.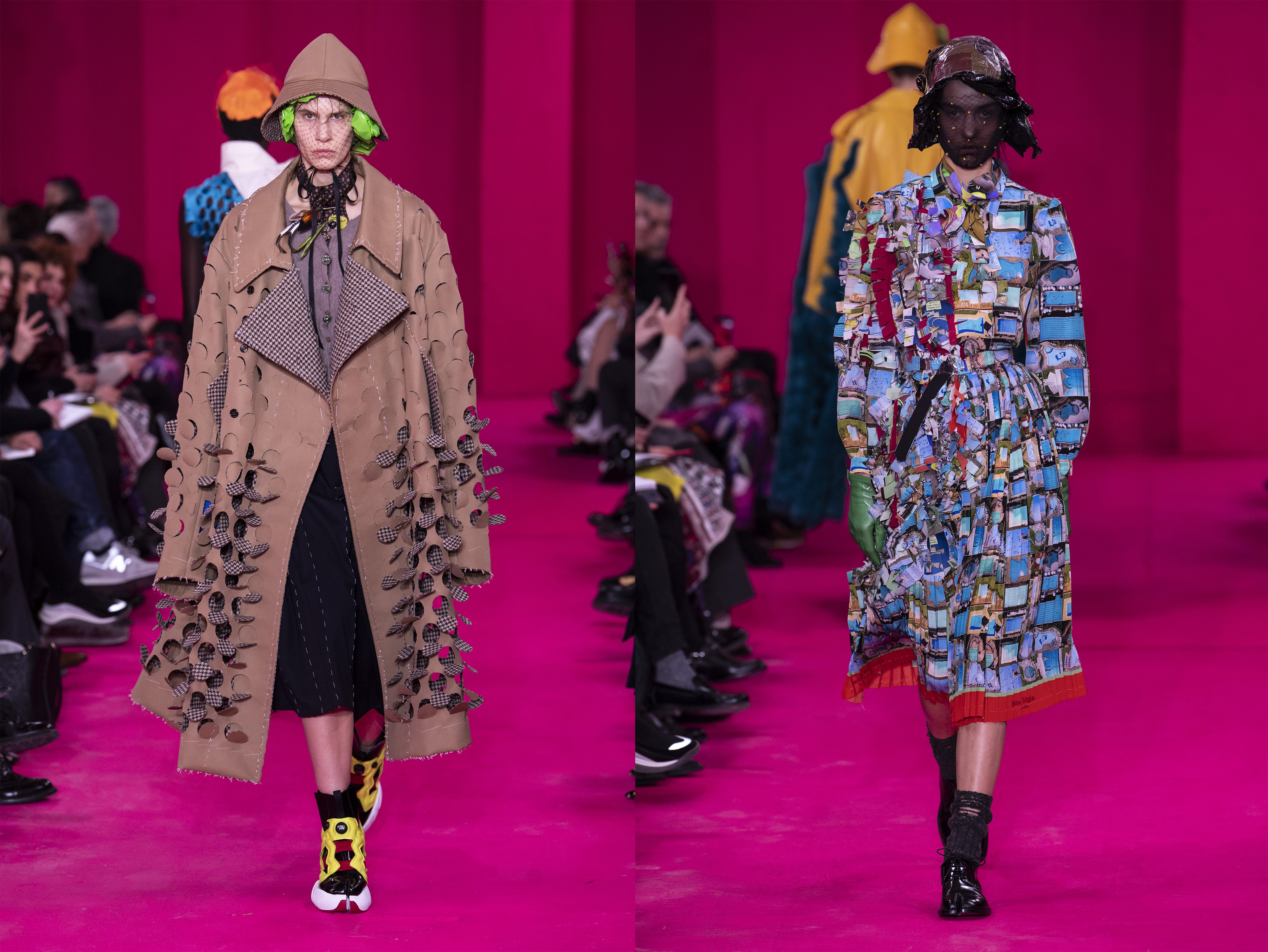 Courtesy Maison Margiela Artisanal
An oversized wool coat with "whole punch detail," which shows off the tweed lining is both delicate in execution and punk rock in its sense of destruction, and the once again the primary color, chunky soled-sneakers are ready for action. A silk ensemble, complete with pussy-bow blouse is very '70s secretary, but a close-up of the geometric print reveals images of pools as seen from above. Upon even closer inspection, one notices the fabric begins to shred as it goes from left to right, ending up in destruction. The delicate squares of fabric mixed in with solid squares in blood red. Eat the rich, the clothes seem to say, you can have little a cannibalism, as a snack.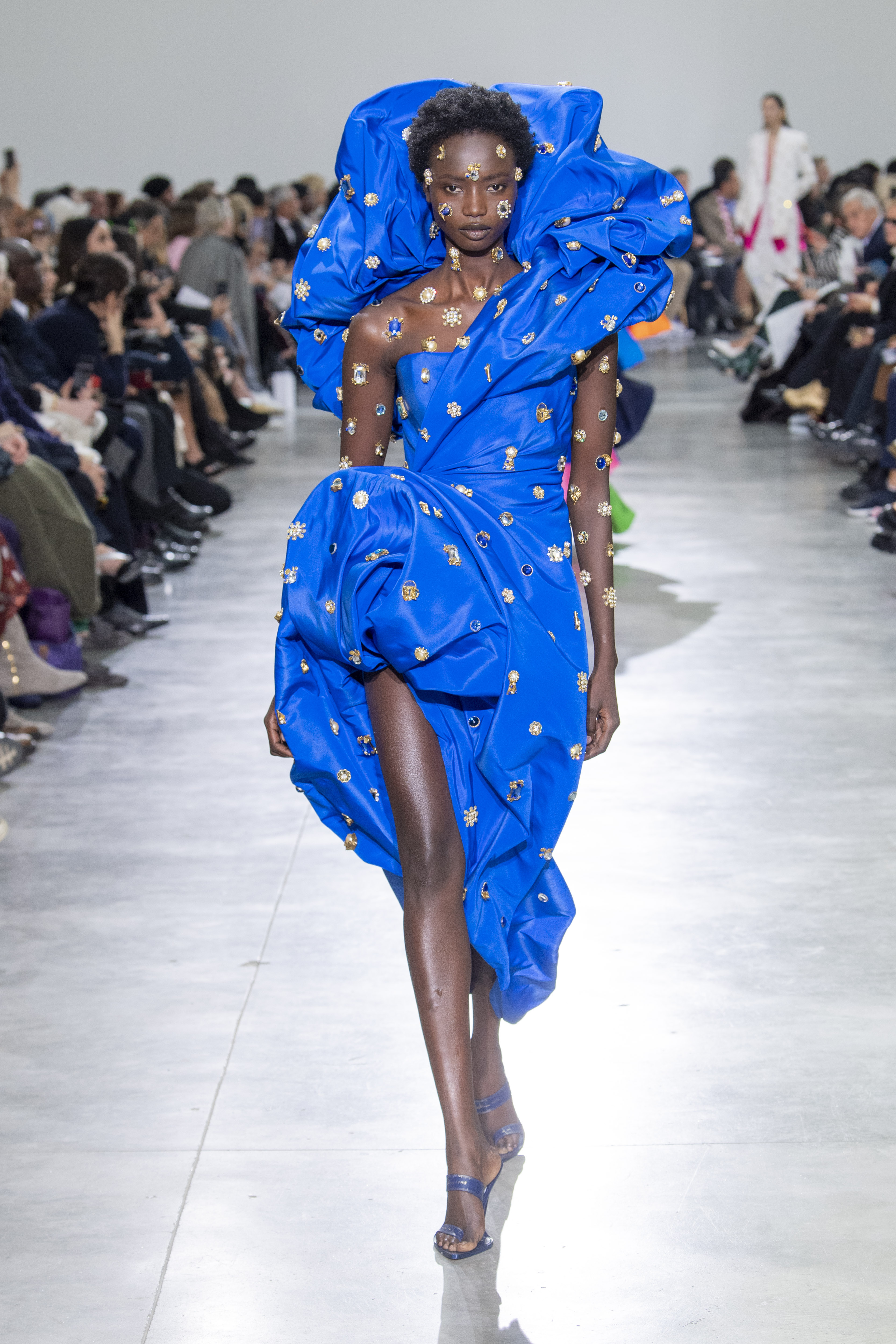 Courtesy Schiaparelli
Daniel Roseberry has been at Schiaparelli for less than a year, but already he has established his own sense of glamourand humorthat stands out as his very own while also perfectly fitting in with the aesthetic that made Elsa Schiaparelli so famous. His clothes embrace the surreal, but wisely go beyond ~a lobster~. On its own, this blue silk gown with a wrap-around oversized ruffle has that insouciant glamour that we can't seem to get enough of when looking at images of any glamorous fte in the '70s or the '80s, but the all-over charm embroidery, which extends on to the face, chest, and arms of the model, make it about right now. It's the kind of shake-up Hollywood red-carpets deserve (and that '90s trends of bindis and other body jewelry prove that if you build it, they will come).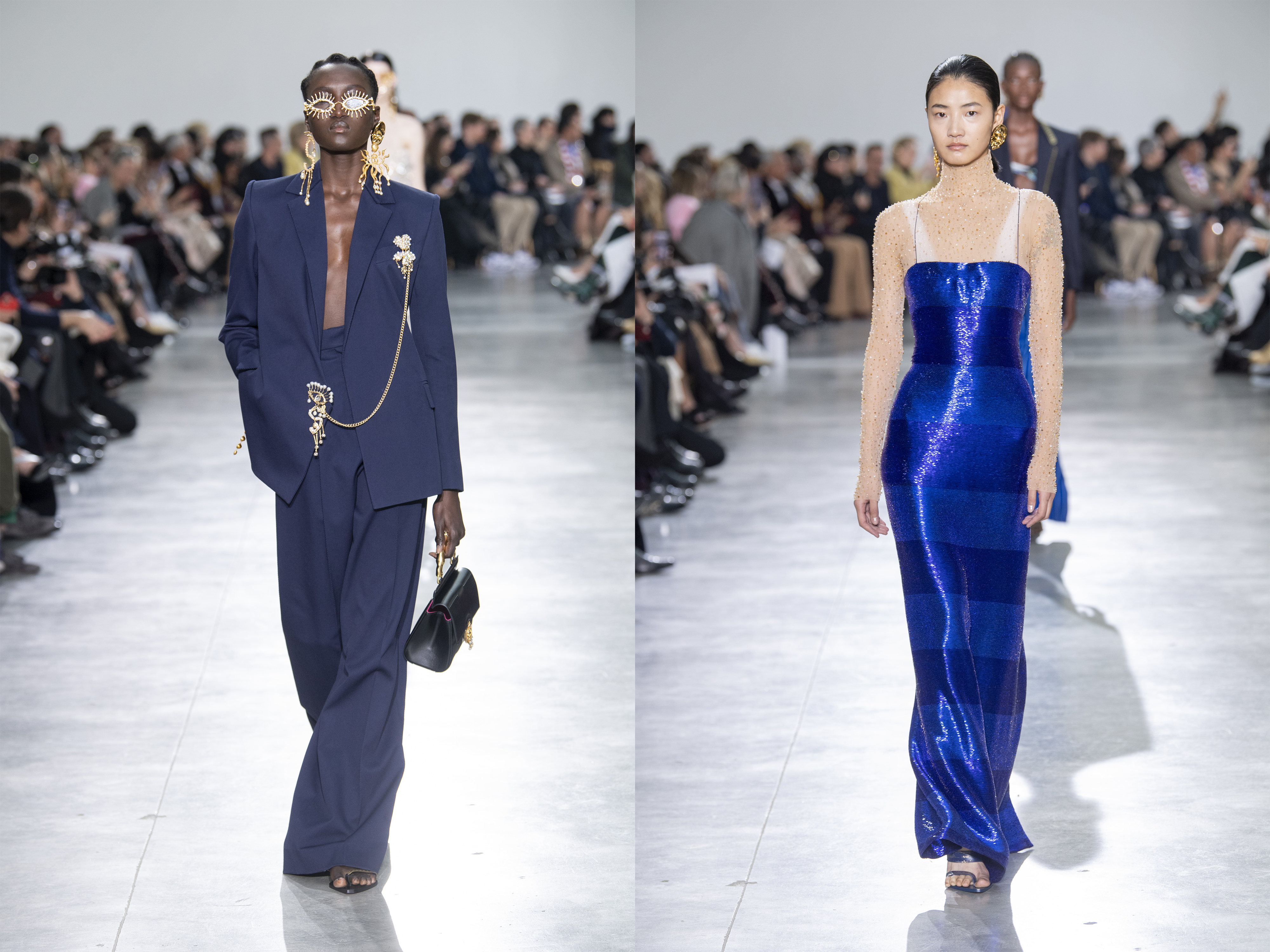 Courtesy Schiaparelly
Roseberry is really into exploring how we define accessories, and nowhere is this more obvious than the incredible eyeglass-earrings combo, and double-broche-better-than-a-chain-wallet golden jewelry that adorns this otherwise low-key, navy blue suit. It's just cool, you know? When was the last time you just saw something this cool, something you had legitimately never seen before? A striped, sequined navy slip dress could be nothing to write home about, but when worn over an embellished mesh turtleneck made to look like tan-lines, you're forced to look twice. And sure, this could be the kind of thing that can only live as a concept on a runway, but what is most exciting about Roseberry's vision, is how it invites a certain level of authenticity. I'm wearing this because this is who I am, because I can. It's a fully realized vision of how clothes can become an extension of who you are as a person.