Considering that the modern cocktail renaissance is just over two decades old, when a bar hits its 10th anniversary, it's an accomplishment worth raising a glass to commemorate — especially considering the pandemic asterisk putting a stain on the overall statistics. Granted, the decennial mark is in the rearview mirror for a number of pioneering bars still going strong, like Employees Only (2004), Death & Co. (2006), Bourbon & Branch (2006), PDT (2007), The Violet Hour (2007), Cure (2009), and Rob Roy (2009).
This past March, Attaboy, the Lower East Side bar on 134 Eldridge Street (and current title holder of Best Bar in America) that was once home to Sasha Petraske's influential Milk and Honey, turned 10. And though co-owner Toby Cecchini plays coy with the actual anniversary date, Brooklyn's beloved Long Island Bar (which first opened in 1951) will mark 10 years in business since its new owners took over the lease in 2013.
Also among that spirited lineup of bars celebrating 10 years in business is San Francisco's Trick Dog, known for innovative themed menus that often celebrate and give back to the city itself through philanthropic efforts. But beyond the awards and serious cocktail bona fides, Trick Dog perseveres by being a solid neighborhood bar, the kind of place where locals linger, tourists pop into, and the city's bartenders treat it as a post-shift clubhouse.
"When Trick Dog first opened, we were the must-try spot when traveling to San Francisco," says Trick Dog alum Joshua "Glovebox" Jancewicz, who worked his way up from barback to bartender to bar manager. "Every industry person had to come by and was so excited to see what the next menu theme would be. Now when I travel and see a cheeky-themed menu I know that it's because of us. In a way, Trick Dog changed the way you order at a bar."
Old Dog, New Tricks
Trick Dog's detailed concept menus swap out every six months and planning the next one begins the day the current menu goes live. Over the years, each menu has become a collectible cultural artifact in its own right. Trick Dog debuted in 2013 with a menu designed as a collection of color-block Pantone swatches and since then, 17 unique menus have been built around eclectic themes like an astrology wheel, a San Francisco tourist map, a collection of vinyl 45s, a Chinese restaurant menu, an airline safety pamphlet, and "The Joy of Cocktails," a cookbook with contributions from San Francisco chefs.
To honor the bar's 10-year achievement, Josh Harris, Trick Dog's owner and founder of Bon Vivants Hospitality, rolled out the biggest menu yet, The Museum of Trick Dog Art (MoTDA), which will be featured through early July. The retrospective collection features 17 brand new cocktails (the biggest lineup yet), including four spirit-free offerings, developed collaboratively by the Trick Dog team and a nod to favorite drinks from the past decade. According to Harris, the Zodiac (Fords Gin, Cynar, black sesame, pineapple, palo santo, lemon) and the Broadsides (Patron Silver tequila, Ritual Sisters Smoked Pineapple spirit, Awamori, cucumber, orgeat, and lime) have proven to be the two most popular drinks thus far.
The MoTDA menu represents a year-long process that engaged the staff in ways that they hadn't been involved with previously. "This is the next chapter of the bar's evolution," Harris says. "Creating an environment in which the staff can engage in this undertaking and cultivate the skills and mindset to compose a drink that could potentially make the cut on a Trick Dog menu."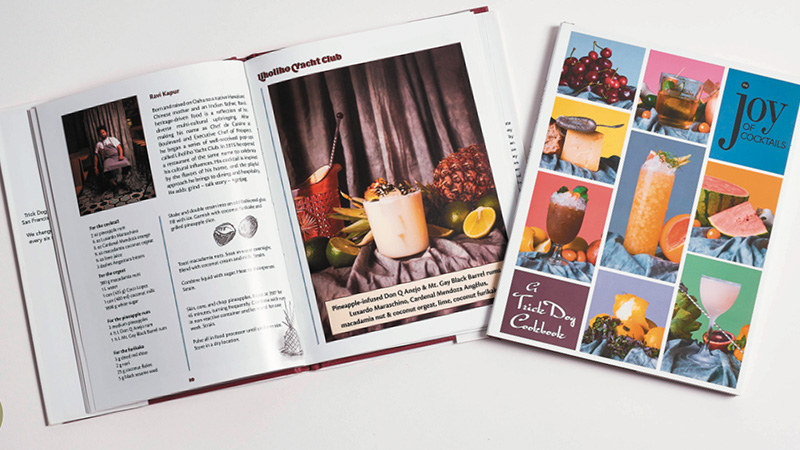 Trick Dog maintains its community-driven approach to being a vital part of the Mission District neighborhood by donating a portion of sales from the MoTDA menu as well as past menus, prints, and other merchandise to the Bon Vivants Scholarship, which promotes racial and social equity with financial support toward qualified students attending college in San Francisco.
Building a Legacy
While Jancewicz would become one of the first members of Trick Dog's bar team, he was also part of the build-out crew. With a minute to spare before opening the door for business, he traded his construction belt for a bar apron. The only problem was, there was no door. "There was a line down the street, and we literally had no door," Jancewicz recalls. "For a month we had to bolt plywood to the front of the building so we didn't get robbed."
Along with the crowd of customers packing in three-deep at the bar came growing acclaim, including being one of the only Bay Area bars to receive a three-star review from The San Francisco Chronicle. In addition to being a two-time finalist for the James Beard Foundation Award for Outstanding Bar Program, Trick Dog has been listed among the World's 50 Best Bars lineup and received multiple Tales of the Cocktail Spirited Award nominations, including winning the award for "World's Best Cocktail Menu" twice.
Past Trick Dog all-stars, like Caitlin Laman (a former national Speed Rack title holder), Chad Arnholt (creator of Trick Dog's popular NASCAR Spritz), and Morgan Schick (founder of Portland, Ore., hospitality consulting firm There There Co.), all started in supporting roles at the bar and worked their way up. "We created opportunities and an environment where people were able to grow, learn, and take on new positions as opposed to leaving to find those opportunities elsewhere," Harris says. "That created pride and a sense of ownership that you rarely see in other places."
Like countless bars during the pandemic, Trick Dog had to pivot its business plan and launched Quik Dog, which temporarily replaced the bar's signature themed menus and barside experience with large-format, batched cocktails. It also offered takeout-friendly food like the Quik Dog Burger, an elongated patty of ground chuck and brisket served in a hot dog bun with American cheese, lettuce, pickles, onions, and "Doggie Sauce." It was inspired by the Hot Dog Bills' "Burger Dog" served to golfers since 1950 at San Francisco's Olympic Club, a popular hangout for Harris when he was a teenager.
When Trick Dog was finally ready to return it had a completely new staff in place prepared to carry on the trajectory, and legacy, of the bar's reputation. "The DNA of the bar prevailed but when we reopened we didn't approach it like rebuilding a championship team as the world was different now, and our approach also had to be different," Harris says. "What Trick Dog had in store was uncertain and we were critically focused on putting together a team that was excited to be there and eager to go on a journey and find harmony together."
The Fabric of a City
One of the driving forces among the new faces at Trick Dog is Nick Amano-Dolan, who became general manager in August 2021 and maintains the bar's legacy within San Francisco and beyond. "I admit it was very intimidating and, to be honest, I felt like I had imposter syndrome," he says. "I had so much respect for Trick Dog and it was the model for what I wanted a bar to be: innovative, fun, fast."
One of the challenges for Amano-Dolan was rechristening the space and maintaining the culture and overall vibe of the past but with a whole new staff. He notes that Harris and former alumni were generous with sharing their knowledge and the driving principles behind the bar.
In an industry still possessed of artifice and affectation, Trick Dog's team has mastered the art of not taking themselves too seriously, except when it comes to their cocktails and how they're created and presented. "Trick Dog has that intangible, magical X factor — an indescribable vibe that feels as special the first time you walk in as it does the hundredth time," Amano-Dolan says. "What distinguishes San Francisco's drinking scene is the variety and scope of bars you can walk into, but the city really knocks it out of the park with elevated neighborhood drinking joints."
Andrew Calisterio, a former San Francisco bartender who currently works in spirits marketing, has been there for every new menu launch and claims that part of the key to Trick Dog's success lies in offering a high-caliber cocktail experience but presenting it in a fun, casual manner. "San Francisco bars are unique in their offerings, blending a laid-back California mindset and style of service, but completely surrounded by young professionals with expendable income," Calisterio says. "The city is so densely populated that chances are if you open a bar or restaurant, you'll have an audience, but in order to keep them you have to offer something special."
The Museum of Trick Dog Art retrospective menu and installation offers the bar a victory lap of sorts to look back at its accomplishments. As for what's in store for the next 10 years of Trick Dog, it remains a philosophical journey of discovery — for the bar, for its guests, and the city itself. "I'm a San Francisco native and find inspiration all around me and everywhere I go and what inspires me also evolves — you've got to continually keep your eyes and heart open," Harris says. "We've remained true to ourselves and in the ever-changing landscape, we are ever changing ourselves."
The article Trick Dog Turns Ten: How a Beloved San Francisco Bar Continues to Influence a Decade After Its Debut appeared first on VinePair.