Thanks to THE COVID (Bob's term for everything encompassing our current situation!), I've been DIYing my blog photos for a month now, with a lot of selfies, plus the help of the #Instahubs.


It's been good for me, and I've learned a lot about lighting, editing, and camera angles! I know you've probably learned a lot during the past month or so too. In a way, it's been really good for me to slow down. Do you feel that way too?
Shirtdress -styled as a jacket (now 50% off!) | Loose Striped V-Neck Tee (now 50% off!) | NYDJ White Ankle Jeans | Brown Wedges (similar) | Stretchy Rattan Belt | Rattan Circle Crossbody Bag | Rattan Circle Drop Earrings | CZ Solitaire Necklace

In an effort to connect with y'all, I've been spending a lot more time on Instagram the past month! I've been offering outfit ideas and style tips on my Story, I filmed an IGTV video on my everyday stay-at-home makeup routine, and I'm actually planning to do an Instagram Live this Monday at 12 noon (CST)!
I've also been getting a lot more DMs and emails, so today I thought I'd answer some of the questions I've gotten lately.
Shirtdress (now 50% off!) | Nude Block Heel Sandals | Rattan Handbag sold out (similar HERE) | Jade & Rose Quartz Convertible Necklace (now 50% off!) | Jade & Rose Quartz Hoop Earrings (now 50% off!)

I noticed your number of Instagram followers has dropped dramatically in the past few weeks! Is everything okay?
Hahaha!

Thank you for noticing! While the rest of the world has been cleaning out their closets, I've been cleaning out my Instagram account! It's mostly due to a bunch of technical/businessy blogging stuff, but here's the deal.
When I first started Empty Nest Blessed almost five years ago, Instagram was all about follower count. The more followers you had, the more legitimacy you had as a blogger. Companies started popping up that promised to find "real" followers for you for a fee. Lots of bloggers fell for this, paid big money and bought followers. (Spoiler alert: the "real" followers were actually "bots"—computer-generated fake spam accounts.) I never did this.
But I did participate in something called "loop giveaways." If you're on Instagram at all, I'm sure you're familiar with these! That's when several accounts get together, pool their money for a fabulous prize, and in order to enter, you're required to follow all of the associated accounts. Thinking this was a great way to gain followers who were actually real people, I participated in several of these. Unfortunately, it resulted in followers that weren't in my over 50/empty nester demographic, and they didn't actually have any desire to interact with my account. That meant my Instagram engagement was low. (Engagement=(likes + comments)/followers x 100) A good Instagram engagement rate is between 1% and 3%.
When my assistant, Natalie, and I started deleting followers, I had nearly 20K! After cleaning spammy or unengaged followers from my account, I'm down to 15.8K! When your account is public, like mine is, spam happens. But I want to know that the people who are following me are doing it because they're really interested in my content! If you're following me, but you haven't seen my posts recently, you might want to go to my Instagram profile page and like and/or comment on my last couple of posts. That signals to the Instagram algorithm that you want to see more of my posts in your feed! (As well as being a huge encouragement to me!)
Where have you been shopping lately? Where are you getting all of the dresses & outfits you're sharing on Instagram?
I've been shopping a lot on Amazon! (To see my faves, you can check out the "Spring & Summer Styles" section on my Amazon page. I've also been shopping at Draper James (just snagged this cute chambray popover dress), Nordstrom (everyone loved this maxi dress), and this shift dress from Walmart was a huge hit too! This weekend I'm going to hit up Lilly Pultizer's 30% off sale (they almost never have sales!), the ah-mazing 50% off sitewide sale at WHBM (use code 63244), as well as shop the colorful UPF 50+ dresses at Cabana Life (extra 40% off sale items with the code EASTER40). Can you tell I'm thinking about summer?!

I constantly update the "Where I'm Shopping Lately" list on the right sidebar of the EmptyNestBlessed.com homepage, so you can always check there! Also, if you're not on Instagram, you can shop the looks I share there on this page right at EmptyNestBlessed.com.
Could you please share info on your diet?
Sure! (But I'm afraid it will bore y'all to tears!

) I'm planning an upcoming post on this very subject! I'll be talking about what I eat and what I don't eat!
I have dietary restrictions because I have celiac disease, I'm dairy intolerant, and I have foods that trigger migraines, so I eat pretty simply. I try to focus on what I can have, instead of thinking about what I can't have, and that helps.

You haven't talked much about what it's been like having your daughter home during quarantine! How's it going?
I try my best to honor my kids by guarding their privacy, and I always seek their permission when I want to share or post photos of them. (So now I'll have to do that with this post! Thanks for that! Haha!

) In a nutshell, it's been pretty wonderful (although we've had our moments, of course). We've love and laughter Becca brings into our home, but it was tough to see her get laid off from the tour she was on when THE COVID hit. She's also concerned about her summer contract, so that's tough on all of us. We are practicing prayerful, watchful, waiting on that one.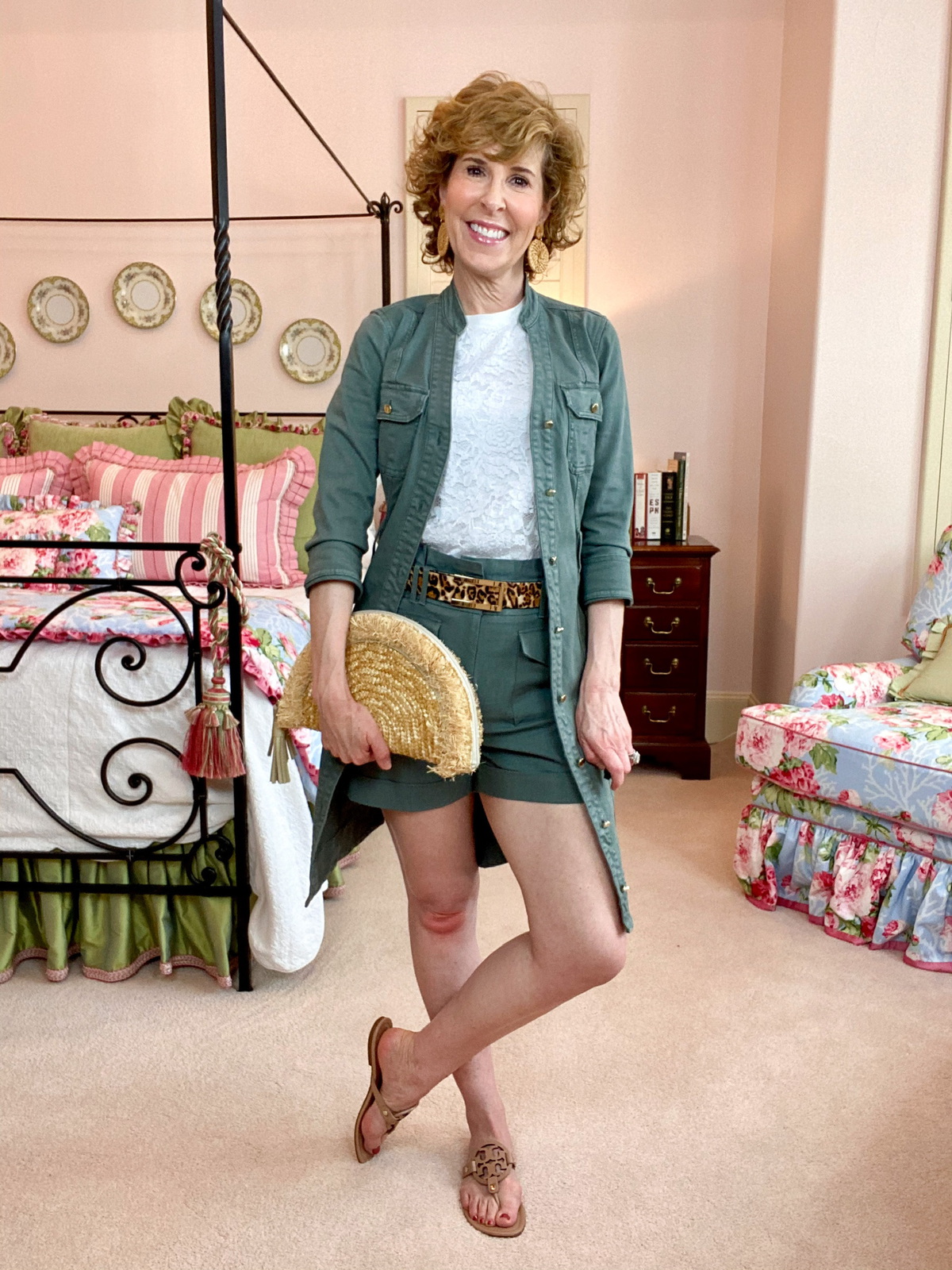 Shirtdress (styled as a jacket & now 50% off!) | Lace Tee | 5″ High Rise Utility Cargo Shorts (now 50% off!) | Animal Print Belt (similar) | Tory Burch Nude Flip Flops (less expensive dupe HERE) | Raffia "Taco" Clutch | Rattan Circle Drop Earrings

Best Weekend Sales
With actual stores closed for the duration of THE COVID, brands are doing what they can to offer good deals and make shopping online easy and convenient, and especially safe. They're also trying to keep their customers loyal by offering tons of amazing discounts!

Thank you for shopping with my links! It means so much to me! Blogs like mine are small businesses, and visiting EmptyNestBlessed.com and shopping with the links I share supports my small business. I'm so grateful to you all for supporting Empty Nest Blessed and sharing it with your friends.

ANN TAYLOR | 50% off entire purchase + 10% extra with code TAKECARE.
ANTHROPOLOGIE | 30% off all tops & jewelry + free shipping/returns over $50.
BARRINGTON GIFTS | 20% off SITEWIDE with code TOGETHER. (They rarely have sales!)
BODEN | 15% off SITEWIDE (exclusions apply) + free shipping/returns.
The Live Well, Love Lots, Laugh More tee I own and wore in this Instagram photo is only $26.60 right now!
CABANA LIFE | Extra 40% off sale items with the code EASTER40
CHICO'S | 40% off SITEWIDE (exclusions apply) with code 29336.
CITY BEAUTY |  25% SITEWIDE EXCLUSIVE discount just for Empty Nest Blessed readers! Click through with THIS link and use the promo code EMPTYNESTBLESSED at checkout to get the discount. I love so many of City Beauty's products, but I'm especially a huge fan of their lip plumping glosses and non-drying matte lipsticks. I wrote an entire post about them! You can read it HERE!
DRAPER JAMES | Check the Draper James site every day this weekend for a special one-day-only "Easter Egg" discount.
J.CREW | 50% off wear-now styles with code REFRESH.
J.CREW FACTORY | 50-60% off SITEWIDE + extra 20% off with code WARMUP 
KATE SPADE | Extra 50% off sale styles with code HISPRING. Free shipping/returns.
LILLY PULITZER | 30% off SITEWIDE (This is sooooo RARE! I can't even…
)
LOFT | 60% off 4+ full-price styles; 50% off 3 full-price styles; 40% off full-price styles + free shipping/returns with code TREAT.
MARK & GRAHAM | 40% off select styles. Think Mother's Day or Graduation!
MARLEY LILLY | Up to 75% off sale (includes this adorable loungewear set I love!) + free earrings when you sign up for text notifications
NORDSTROM RACK | Refresh your GOALS with great deals this weekend on workout wear, home, skincare, and more:
NYDJ | 25% off SITEWIDE + 10% of proceeds donated to the United Way to support U.S. COVID-19 relief efforts. Free shipping/returns.
SOMA |  30% off sleep separates & sets + 7 for $50 off their much-loved Vanishing Panties
TALBOTS |  Up to 50% off over 550 styles + free shipping. (Priced as marked.)
WHBM | 50% off SITEWIDE with code 63244. (I've NEVER seen them do such a big discount! This is better than their Black Friday sale!)
Have a wonderful Easter Weekend, y'all! If you're struggling right now, I pray that Easter will help you remember that you are loved more deeply than you can imagine by One who died for you, and rose again that you might know him as your Savior.
Want to know more about why Easter matters, click HERE.
Blessings,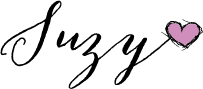 The post What's Up, Weekend? | I'm Opening Up & Answering Your Questions appeared first on Empty Nest Blessed.