Happy Weekend, sweet friends! I'm back from Idaho, and feeling refreshed and relaxed! We got back on Tuesday evening, and I've finally come out from under all of the laundry!
Whew! Idaho is beautiful, but somehow everything we took got absolutely filthy! (We spent a lot of time outdoors!)
You can click the pink text links or any image you see throughout this post for more information. Also, everything fits TTS unless otherwise indicated!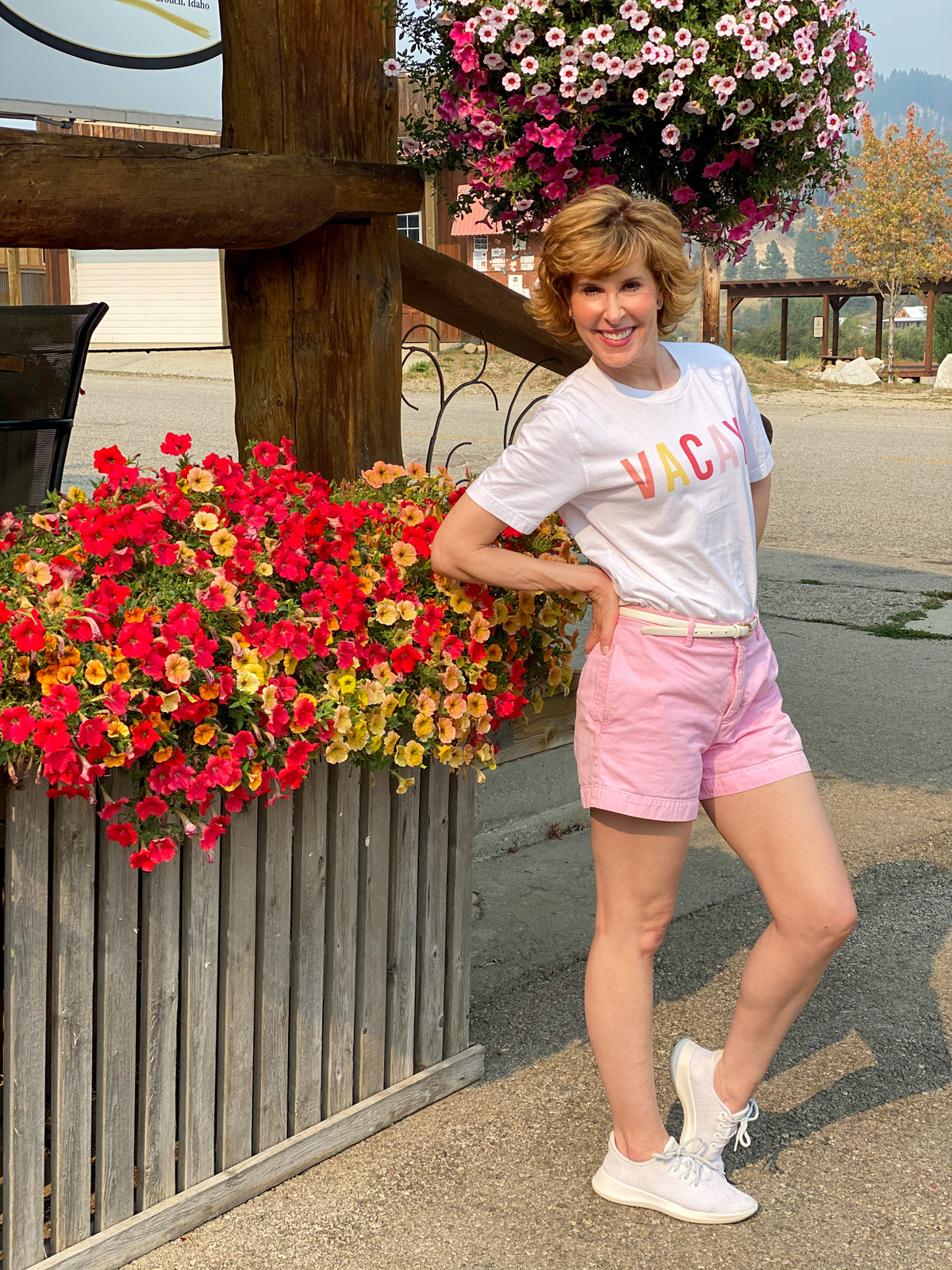 VACAY Tee | Pink Twill Shorts (similar) | White Skinny Belt | White Tennies (Amazon Lookalike HERE) | Faux Pearl Stud Earrings

All About Idaho!
Did you know that the population of the entire state of Idaho is only one million? (The city of Dallas has 3 million!) That means things are open, naturally socially distanced, and, there are mountains everywhere you look! They've had very few cases of COVID-19 anywhere except in the city of Boise. (Which was soooo nice!) We flew into Boise, grabbed our rental car, and headed up into the mountains to Garden Valley, where they haven't had any cases in months! Becca's been working at Starlight Mountain Theatre all summer, with an audience made of up vacationers as well as Idaho locals. It's an outdoor theatre, so they haven't had to worry about masks, COVID, etc.! (Although a nasty wave of strep throat swept through most of the 30+ person cast and crew about a month ago!)
She's done five shows this summer, including High School Musical, Beauty & the Beast, The Scarlet Pimpernel, Shrek, the Musical (She played Fiona). They're currently wrapping up their season with Hello, Dolly! She's playing Irene Malloy (the hat shop owner), and loving it! She'll be home in a week or so, pursuing some voiceover opportunities, and waiting patiently for her industry to open back up.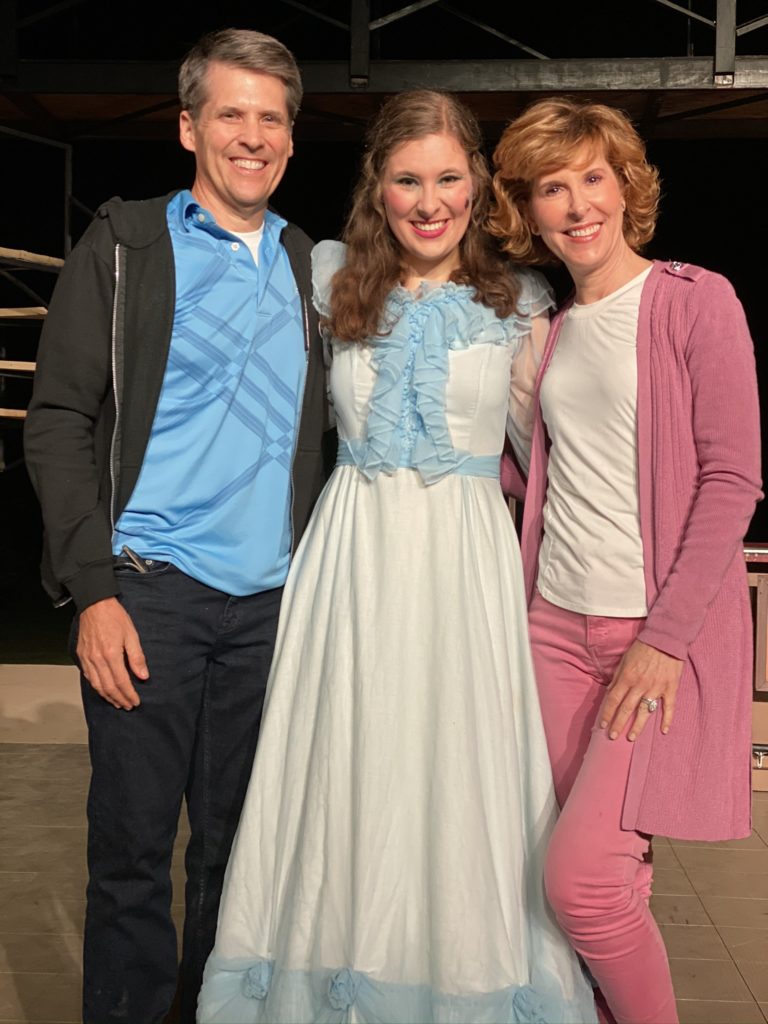 White Tee | Pink Ribbed Duster Cardigan (Was $94, now $29.99)| Pink Jeans (Were $89, now $29.99!)

We made it for the closing night performances of the first four shows, and the opening night of Hello, Dolly! It was so special to be there, enjoy the outdoors with her, and meet the friends who have become like family to her this summer.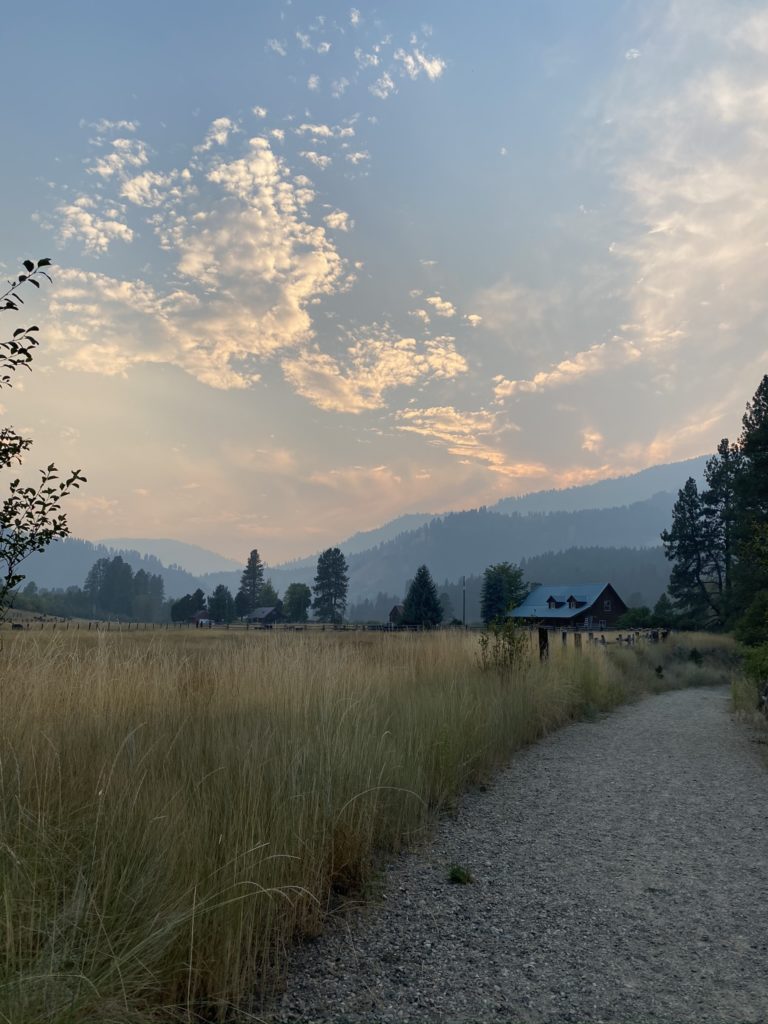 V-Neck Linen Tee | Khaki Jeans (similar) | White Jeans Jacket | Khaki Tennies (similar) | Gold Tory Burch Logo Earrings

When we weren't watching her shows or enjoying long talks with her at our cute VRBO cabin, we hiked, floated the river, and fly fished! (Actually, Bob fished and I went along just to enjoy the scenery!)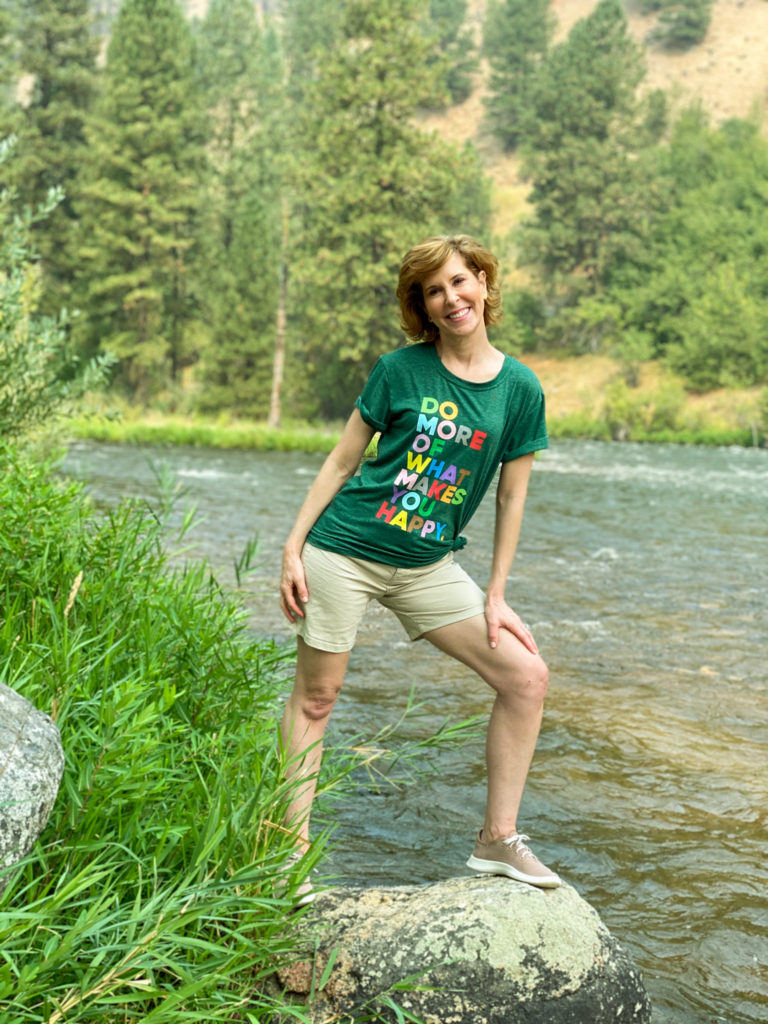 DO MORE OF WHAT MAKES YOU HAPPY Tee | Khaki Shorts (similar) | Khaki Tennies (similar) | Gold Tory Burch Logo Earrings

Handling Stress (Or Not So Much!)
By the time we got there, I was really struggling with stress, not sleeping well, and having trouble relaxing. I don't do well when there are a lot of things happening at once, and honestly, juggling a lot of things is kind of the nature of my job! Also, I love working at home, but the things we used to do to get out of the house (like traveling, or going to sporting events, concerts, and even the movies) have not been possible. (Thanks, COVID!) That means I've been working more than I should, and dreaming about work too! Not good!

White Slub Pocket Burnout Tee |Tie-Dye High-Rise Jeans |White Jeans Jacket | Navy Tennies (Amazon Lookalike HERE)| Faux Pearl Stud Earrings | Lipstick

The time away was a great time to pull back, think about what I needed to do differently, and figure out how I could work more downtime into my schedule. Both Bob and Becca gave me such good advice! (How great is it when your adult kids can support and advise you?!) I came home determined to do a few things differently, for sure.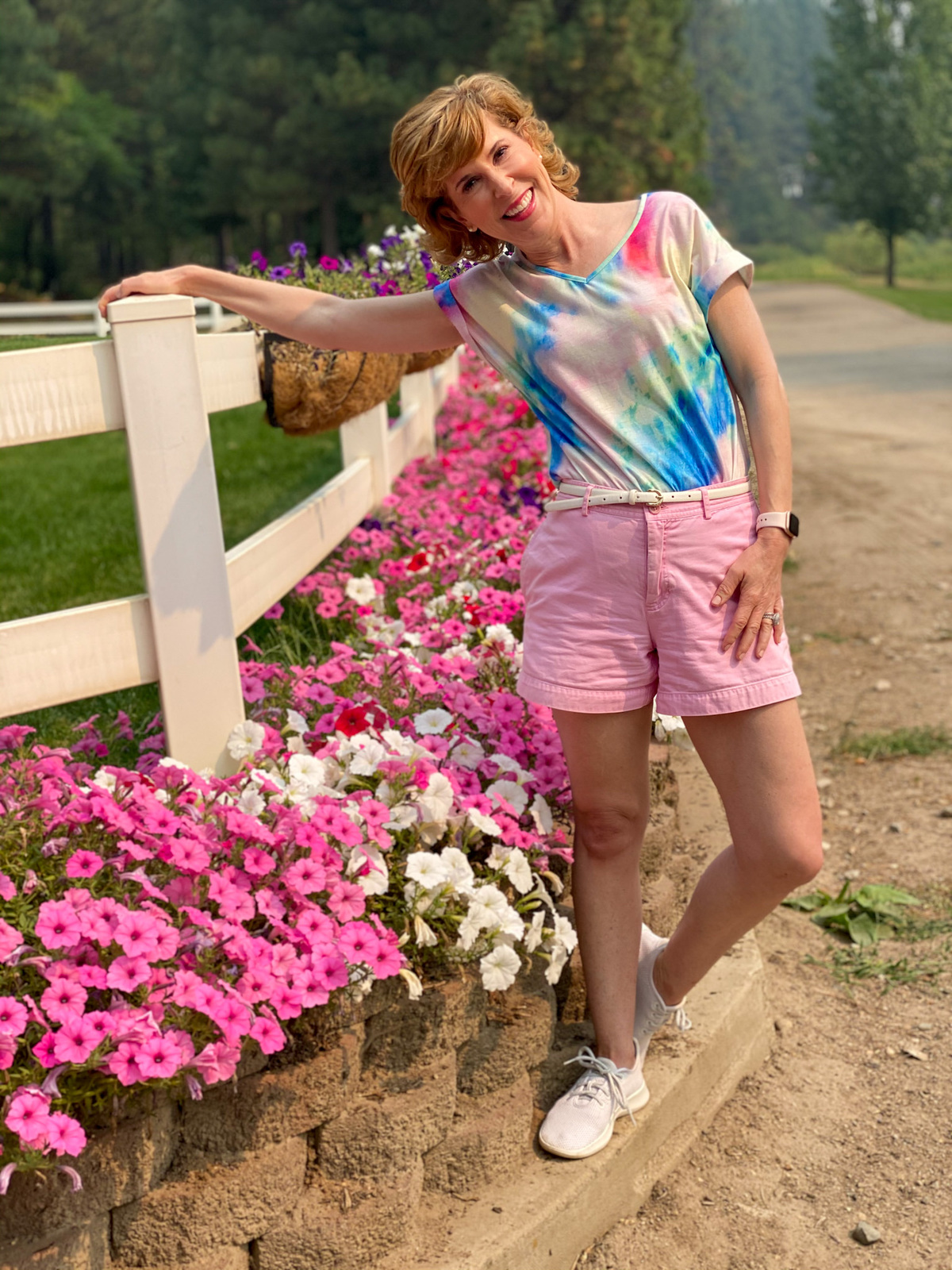 Tie-Dye V-Neck Tee | Pink Twill Shorts (similar) | White Skinny Belt | White Tennies (Amazon Lookalike HERE) | Faux Pearl Stud Earrings

Marco! Polo!
Have you heard of the Marco Polo app? It's a free video chat app. The name, Marco Polo, comes from the old call-and-response swimming pool game. You shoot a "Marco" video message and send it to your friend who then responds with a "Polo" response video whenever they have time. So, you've made contact, but you don't have to both be ready to connect live at the same time. Instead, you watch their video when you have time, and respond when you have time. Becca's acting coach in NYC uses it to stay in touch with her, and she's wanted us to download it forever!
Pink Puff Sleeve Tee (Multiple colors!) | High-Rise Floral Jeans (Were $99, now $29.99)| Black Skinny Belt | Patent Flip Flops (Amazon Lookalike HERE) |Tory Burch Silver Logo Earrings

We finally did it this week, and now we're addicted! It takes less time than texting, seems much more personal than talking on the phone, and it's so convenient. I can Marco Polo Becca early in the morning when I'm up working out, but I know she's still asleep, and she can Marco Polo me at midnight after a show (even if I'm in bed). We can watch each other's videos and respond when it works for us!
I highly recommend this app! In fact, when I go to Florida next month, I'm going to attempt to teach my 80-something-year-old parents how to use it. We'll see how that goes!

Happy, happy weekend, y'all! What's up for you this weekend? Bob and I are working on selling some of the furniture and decor we don't need since we're remodeling, so we'll be working on that. Plus, I'm sure we'll get in some pool time! It's about a bazillion degrees here in Dallas right now.

Pray for our sweet friends on the Louisiana coast.

Blessings,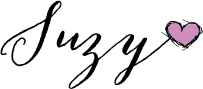 SHOP MY LOOK AT THE TOP OF THIS POST
(My high-waisted, striped, seersucker shorts are just $22.99 and fit TTS!)

The post What's Up, Weekend? | Idaho, Marco Polo + Nordstrom Last Call Deals appeared first on Empty Nest Blessed.