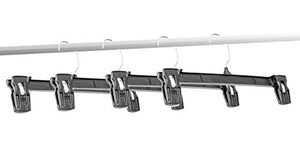 Amiff Clothes Hangers. 10" Pinch Grip Hangers Pack of 10 Black Hangers. Plastic Hangers for Pants and Skirts. Non-Slip Grip and Fixed Hook. Stores and Home. Storage and Organization.
10" CLOTHING HANGERS: Black pants hangers by Amiff Inc. 10 Pack of trouser hangers with clips. Plastic clothing organizers are Amazon's choice. Easy to use. Allows hanging different styles of bottoms. Designed to hold all your garments in place. Plastic clips help to keep clothes in position.
PREMIUM QUALITY: 10" hangers are made with the structurally sound materials to provide visual enhancement and security. Chrome Swivel Hook and smooth edges put an end to snagging material, wrinkles, and deep indentations on more delicate fabrics. Closet organizers are constructed with high-quality materials for maximum durability. Helps organize your clothing rack. Keep your clothes neat, tidy, and wrinkle-free with our Recycled Pinch Grip Hangers!
STORAGE & ORGANIZATION: Plastic Clasp Hangers are useful, cost effective way to separate your pants and skirts from your blouses and t-shirts. Skirt Hangers will keep your clothes easy to find so you can see each item of clothing at a glance. The clips offer excellent grip to help keep all your clothes in place not allowing them to fall to the floor of your closet and become dusty.
SPACE-SAVING & DURABLE hangers are impressively designed to optimize space. Flat shape allows them to organize the clothes most effectively and conveniently. They feature a space-saving flat body with a pinch grip clip at each end. Durable and smooth plastic hangers for both domestic and commercial usage. The strong plastic clips hold clothes in place without risk of damaging the fine fabric.
MULTIPURPOSE dividers can be used in at home, in shops, retail stores, merchandize and everywhere where there is a need for organization and hanging clothes. Our pants hangers are perfectly designed to securely hold all your bottoms: jeans, slacks, skirts or even dress pants. The extra-long pinch clasps reach over belts to hold your clothes gently to ensure your clothes stay wrinkle-free and off the floor.
We are a USA family business located in Illinois. We are pleased to bring to your attention our high-quality product:

10" PLASTIC PANT & SKIRT HANGERS

10 pack.
Black color.
Lightweight.
Space-saving design.
Heavy-Duty Plastic.
Recycled.
Polished Chrome Swivel Hooks.
Break Resistant Clips.
Non-slip grip and fixed hook.
Home & Commercial Use.

Sort your clothes according to your preferences!
Keep your closet in good order! Hangers help you organize your closet tidily.
100% SATISFACTION GUARANTEED.
We will replace or return money if you are not satisfied with our products.

Amiff Amazon ASIN B07H7L8MN3 Home & Kitchen Storage & Organization , Clothing & Closet Storage , Clothes Hangers , Standard Hangers
Liquid error (sections/product-template line 203): Could not find asset snippets/spreadr-reviews.liquid