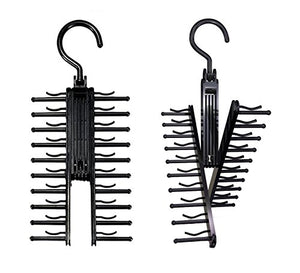 AMZSTAR Neck Tie Hook Belt Holder Hanger Hook for Closet Organizer Hanger Storage Non-Slip Clips Holde 20 Ties Adjustable Criss-Cross Design(2Pack) (Black)
HIGH QUALITY AND COMMERCIAL DESIGN: This neck tie hanger is made of high quality plastic, and black simple design is suitable for every commercial persen.
COMPACT: This tie rack holds up to 20 ties: It also folds up to take up the space of one small hanger: You won't find another tie rack as compact as this and one that does the job efficiently, whether you have a small or large closet
NON-SLIP & CROSS X: Cross X design make it easy to display and organize just by turning the two side rack back and forth. What's more, no-slip design make the ties hang on the rack properly.
360 DEGREE ROTATED HOOKS: Degree rotated hook provides easy access and convenient to keep all of your neck tie in place.
NO TOOLS NEEDED FOR INSTALLATION – Just open the package and hang these racks anywhere. With rotatable hangers for you to easily select what tie/belt/accessory you need. This rack is perfect for the master bedroom, as well as your kids' rooms, hall closets and other areas of the home in need of extra storage space.
AMZSTAR Amazon ASIN B074KDHKXS Home & Kitchen Storage & Organization, Clothing & Closet Storage, Accessory Organizers, Tie Racks
Liquid error (sections/product-template line 203): Could not find asset snippets/spreadr-reviews.liquid