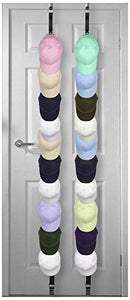 Baseball Holder Caprack Hat Organizer Storage Hanger Display
Regular price $11.50 Sale
Never Fall - we design baseball cap hat rack holders, so your cap will always on the organizer until you release the velcro tape. The cap will not fall during your movement of the door.
The hat rack is adjustable, each designed to hold weighing up to 6 pounds.
Easily fit over the closet door or can be mounted on the wall, and are also great for organizing scarves, belts, baseball hats and other accessories.
Clever gadgets and home storage and organization solutions is available for you.Rotates 360 degrees for complete visibility and access.
100% satisfaction money back guarantee, if you are not completely satisfied with your purchase we will refund your money.
Item Name:2 Pack Baseball Cap Hat Rack Holder Caprack Hat Rack Storage Storage With Adjustable Hooks 20 Caps (Black)

Why Choose Utowo Baseball Cap Hat Rack Holder


EACH HOOK IS ADJUSTABLE TO BE MOVED UP OR DOWN - you can smoothly slide the velcro tape hooks after sticking it.Easy to keep your bags neat, Organize most widths of handbags, hats and purses.

HIGH QUALITY MATERIAL - made of solid nylon and stainless steel.Strong and durable.

EASY TO INSTALL WITH NO TOOLS - easily mount over the door with a neat look. Adjustable velcro tape hooks to neatly organize your purses and handbags up on each velcro tape hook.

PERFECT SOLUTION TO SAVE SHELF SPACE - simply pick up your favorite purse on the way out. You can use it on closet door, laundry door or any other door you can see fit.

MONEY BACK GUARANTEE - IF YOU DON'T LOVE IT, simply just return it and drop us an email. We will refund your money without any questions. RISK FREE PURCHASE.

Product Description
Type:Storage Holders & Racks,Bathroom Shelves
Material:Sturdy nylon fabric+stainless steel
Use:Clothing/Hat/Bag/Scarves
Color:black
Weight:0.29kg
Dimension:210*2.6cm

What You Get:
2 PACK Baseball Cap Hat Rack Holder
A Easy-To-Follow Instructions
UTOWO Amazon ASIN B076PJ1XMF Home & Kitchen Storage & Organization , Clothing & Closet Storage , Hat Racks
Liquid error (sections/product-template line 203): Could not find asset snippets/spreadr-reviews.liquid