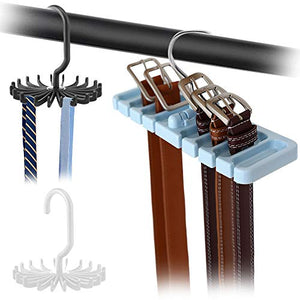 DaKuan 2 Pack Adjustable Twirling Tie Hanger and 1 Pack Belt Rack, Tie Holder (Black and White) and Sturdy Plastic Belt Hanger (Blue) for Closet Organizer Storage
PACKAGE CONTAINS- The package comes with 2 pack twirl tie hanger (Black and White) and 1 pack blue belt rack.
STURDY MATERIAL- Twirl tie holders are made of sturdy PP plastic. Sturdy ABS plastic belt rack holder holds securely up to 10pcs ties or Belts.
CONVENIENT -Both Twirl tie holder and belt rack have 360 degree rotating hanger hook for easy access.
SIZE- Twirl Tie holder is 4.3"x 4.3" x 4.3" when assembled. The belt rack is approx. 9" L x 3"W x4.75"H. Fit for most of ties and belt for men and women.
SPACE SAVING- Compact and tidying up your closet. More importantly, you will not miss your ties and belts when you dress up and go out.
Product Description:

How to install tie hanger

1)Hold hanger vertically above the center hole in the base
2)Carefully put the split end of the hanger in the hold in base. Once both split ends are properly in the hole, press down firmly while rotating hanger back and forth.

DaKuan Amazon ASIN B07HFQ63FW Home & Kitchen Storage & Organization , Clothing & Closet Storage , Accessory Organizers , Tie Racks
Liquid error (sections/product-template line 203): Could not find asset snippets/spreadr-reviews.liquid