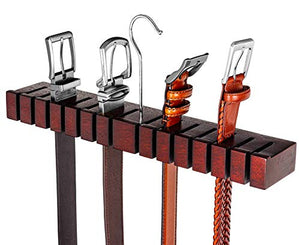 HOUNDSBAY Block - Updated Patent Pending Unique Design - Solid Mahogany Belt Holder Hanger & Belt Rack Organizer (Mahogany)
Regular price $29.99 Sale
THE BLOCK BELT HANGER - A Solid Block of Premium Furniture-Grade African Mahogany Wood with 14 Symmetrical Slots for holding up to 14 Belts.
UPDATED DESIGN FOR FALL 2019 - New Elevated Ridge prevents belts from sliding off. This is an improvement over our previous model. Save space in your closet by holding 14 Belts. Let all your nice belts face you in a row, or turn the BLOCK to sit perpendicular to your hanger bar to save closet space.
SLEEK DESIGN + PRACTICAL FUNCTION - The Solid Mahogany BLOCK adds a touch of old world class to a simple, modern design. Why keep your expensive belts on a cheap piece of plastic Display your belts somewhere worthy of their craftsmanship. Given them the BLOCK. Overall Dimensions are 17" Long X 3" Wide x 1.6" High.
GIFT READY - Arrives in a Navy Blue Gift Box. This Belt Hanger is probably the Highest Quality Mahogany Wood ever used for a Hanger. Given as a gift, it will makes one's closet look great and will last them a lifetime.
SATISFACTION GUARANTEE - Buy with Confidence. HOUNDSBAY offers a LIFETIME Warranty and excellent, professional customer service.
Introducing "The Block" Belt Hanger by HOUNDSBAY.

One of the Best "Guy Gifts" out there, the "Block" is made from a solid block of
100% African Mahogany Wood. It is then cut int 14 slots, given a dark stain, and affixed
with a chrome hook. This creation is the perfect way for a guy to hang his belts in
style.

The chrome hook swivels so you can save space in your closet.

This is a unique design that you cannot get anywhere else.

So no more cheap looking plastic hangers for those nice leather belts. Put belts
where they belong, on a nice piece of solid mahogany. Get the Block!

About HOUNDSBAY
We are headquartered in Plano, Texas, USA. HOUNDSBAY was founded by 2 attorneys
who appreciate Quality and History, and want to express this by producing Premium
Closet Accessories, Valet Organizers and Shoe Care Products.
HOUNDSBAY Amazon ASIN B07BB6GYYW Home & Kitchen Storage & Organization , Clothing & Closet Storage , Accessory Organizers , Belt Racks
Liquid error (sections/product-template line 203): Could not find asset snippets/spreadr-reviews.liquid