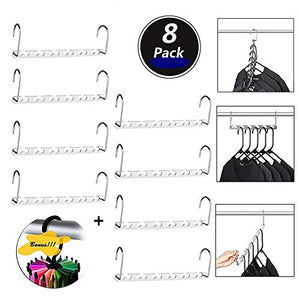 HUSTON LOWELL Space Saving Hangers Wonder Metal Clothes Hangers Stainless Steel 6X2 Slots Magic Hanger Cascading Hanger Updated Hook Design Closet Organizer Hanger+Rotating Ties Scarf Hanger
Regular price $14.99 Sale
MAGIC HANGERS - Increase the amount of hanging space in your closet with our closet chrome metal hangers! The ingenious design allows you to store multiple garments on a single magic hanger, keeping your closet neat and tidy and your garments wrinkle-free.
Made of sturdy and durable metal with reinforced hooks, the natural wonder magic hangers won't bend or break and can hold any type of garment on wire, plastic, or wooden hangers.
LARGE HOOK OPENING - The enhanced design of our cascading hangers features a much larger hook opening (1.61 inches) which could fit a wider range of closet rod diameters.
PACK OF 8 - 10.24".Each hanger organizer hangs can hold 12 garments (up to 15lbs) horizontally and hold 6 pieces (up to 30lbs) vertically!Great for your heavy overcoat.
BONUS GIFT:360 Degree Rotating Twirl Tie Rack Adjustable Tie Belt Scarf Hanger Holder.
Are you in desperate need of some extra space in your closet
Are you tired of wrinkled clothing and ineffective storage solutions
Then buy our enhanced to put an end to closet congestion!

The innovative and versatile design allows you to effectively maximize the hanging space in your closet - so there's no need to throw out your clothes just to create more room!
Offering superb functionality, they are perfect for small storage areas, compact apartments, college dorms, and RVs or vacation homes.

1.Holds 6 hangers, Increase your closet space instantly.
2.Durable Galvanized iron construction, Solid stainless steel bar, moveable hooks that are sturdy with a permanent connection.
3.Use both hooks to hang clothes horizontally. Remove hook to drop wonder hanger to vertical position. Keeps clothes organized and wrinkle free.

Package Included:
8 x Clothes Hanger
1 x Tie Rack
HUSTON LOWELL Amazon ASIN B07FNJNV4K Home & Kitchen Storage & Organization , Clothing & Closet Storage , Clothes Hangers
Liquid error (sections/product-template line 203): Could not find asset snippets/spreadr-reviews.liquid