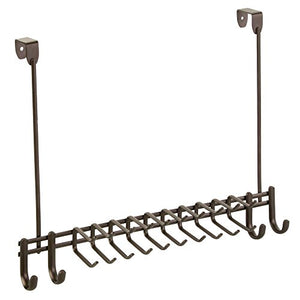 InterDesign Axis Over the Door Closet Organizer Rack for Ties, Belts - Bronze
Regular price $17.33 Sale
Great storage for ties and belts. Also use for scarves and jewelry
Features 4 belt hooks and 10 double tie hooks
Fits interior doors up to 1.5" thick
Made of durable steel with bronze finish
15" x 4.25" x 11.5"
Great storage for ties and belts. Also use for scarves and jewelry
Features 4 belt hooks and 10 double tie hooks
Hangs over standard interior doors
Made of durable steel with bronze finish
15" x 4.25" x 11.5"
Keep your ties, belts, scarves and other accessories organized with the InterDesign Axis Over Door Tie/Belt Rack. It features 14 hooks and requires no tools, just hang over any standard interior door!
InterDesign Amazon ASIN B00XRAZI0C Home & Kitchen Storage & Organization, Clothing & Closet Storage, Accessory Organizers, Belt Racks
Liquid error (sections/product-template line 203): Could not find asset snippets/spreadr-reviews.liquid