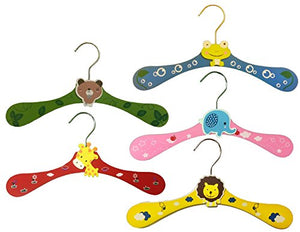 Mr. Unique Home Cartoon Animal Wooden Baby Clothes Hanger Set | 5 Pieces | Lion, Frog, Elephant, Giraffe, Dog designs | | Great for Babies, Kids, and Children's Clothing.
Regular price $10.99 Sale
LIGHT WEIGHT - Hard wood hanger and metal hook make the perfect tool to hang a child's clothing in the closet or on a rack for storage.
EASY SOLUTION - These hangers make for an easy solution to put away pants, shirts, belts, hats, and other garments in a kids closet.
COLORFUL - These hangers are fun, colorful, and OH SO CUTE! Children love these adorable hangers. Moms love that they are durable, strong, and sturdy!
FUN, FUN, FUN - These hangers are FUN! Kids love to pair the animal cartoons up to their favorite clothing. The hanger can be a great way to get kids excited about helping with chores. They get to have fun while helping mom or dad put the laundry away. Purchase multiple sets to fill your children's closet with these cute and adorable hangers.
GET WHAT IS SHOWN - Our hanger set come with exactly what is shown in our pictures. No need to worry about getting Items you do not want. 100% GUARANTEE. If something is wrong, We promise to make it right!
These hanger's slim design allow you to maximize space in your child's wardrobe while keeping their clothes secure while being stored. The durable and sturdy design can hold clothes up to 4 pounds and great for shirts, pants, overalls and hats. Keep them in your laundry room so they are handy for hanging away children's clothing. They work well for baby and infant clothing. These are wood hangers.
Mr Unique Home Amazon ASIN B01MTPOLT3 Home & Kitchen Storage & Organization, Clothing & Closet Storage, Clothes Hangers, Children's Clothes Hangers
Liquid error (sections/product-template line 203): Could not find asset snippets/spreadr-reviews.liquid