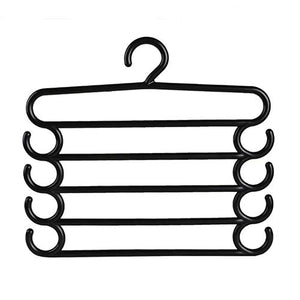 Petrista 5 Layers Trousers Hanger Pants Hanger Non-Slip Trousers Hanger Holder, Clothes Belt Tie Scarf Towels Storage Holder Organizer,2 Pcs (Black)
Regular price $15.99 Sale
5 Layers and spacial shape design --- organized and wrinkle-free due to this efficient hanger.and can hang more things, saving limited space.
Layered Storage --- practical multi-layer pants rack, layered storage of various types of pants, to help you save wardrobe space.
Space Saving --- Layered storage, bearing a good, which can accommodate four pants, save wardrobe space.
Easy to Use --- Both sides of the hanging ring, high-quality PP material, tough and durable, good bearing, workmanship, not afraid of scratching pants.
Multi-Purpose --- Used for clothes, towel, scarf, trousers, slacks, ties, shirts, blouses, sweat pants, etc.
Can hold all kinds of clothes and others stuffs like tie,towel,scarfs,jeans,belts etc.

Suit for: Family, home, household.

Create more space in your closet.

Keep Clothes neat and organized on the poles.

Keeps your Clothes neat and tidy, but also keeps them compact.

Use one hanger instead of five with this convenient 5-Layer hanger.

Reasonable spacing, storage and easy to take, practical hook, solid easy to fall off, suitable for pipe diameter of 3cm or less used.


Petrista Amazon ASIN B07BW17W5Y Home & Kitchen Storage & Organization , Clothing & Closet Storage , Clothes Hangers , Pants Hangers
Liquid error (sections/product-template line 203): Could not find asset snippets/spreadr-reviews.liquid