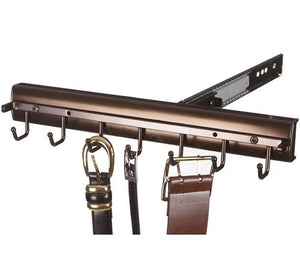 Premier Pivoting Belt Rack - Oil Rubbed Bronze
Practical way to display your favorite belts.
Seven hooks allow you to hold up to 14 or more belts.
Conveniently mounts right or left to accommodate most custom closet design systems.
Glide the belt rack out on the smooth ball bearings and it will pivot 90 degrees to display all your belts.
Durably crafted of steel with a oil rubbed bronze finish.
The Oil Rubbed Bronze Belt Organizer is a must have for getting your belts organized in a custom closet system. This belt rack has seven hooks and will hold up to 14 or more belts. For your convenience the belt organizer will mount right or left to accommodate most custom closet design systems. Glide the belt rack out on the smooth ball bearings and it will pivot 90 degrees to display all your belts. The sliding hardware and cast aluminum housing will install onto industry standard custom closet partitions. Oil Rubbed Bronze Belt Organizer Features Practical way to display your favorite belts. Seven hooks allow you to hold up to 14 or more belts. Conveniently mounts right or left to accommodate most custom closet design systems. Glide the belt rack out on the smooth ball bearings and it will pivot 90 degrees to display all your belts. Durably crafted of steel with a oil rubbed bronze finish. The sliding hardware and cast aluminum housing will install onto industry standard cust
Sidelines Amazon ASIN B0039A8BL8 Home & Kitchen Storage & Organization, Clothing & Closet Storage, Accessory Organizers, Belt Racks
Liquid error (sections/product-template line 203): Could not find asset snippets/spreadr-reviews.liquid