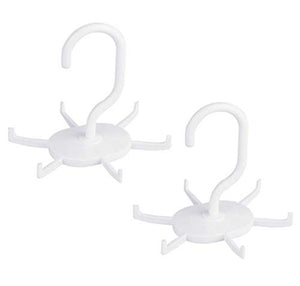 ReachTop Twirl Tie Rack, 2 Pack White Plastic 360 Degree Rotating Belt Hanger 6 Hooks Multipurpose Scarf Hanger Tie Holder Closet Organizers
[360 DEGREE ROTATING]: The rotating hanger provides for easy selection, making it easier for you to find the perfect tie every time.
[6 HOOKS]: Each rack hanger can hold securely up to 6 ties or belts, space-saving and tidying up your closet.
[COMPACT SIZE]: Length is 4.9in / 12.5cm. Height is 4.3in /11cm. Each arm is about 2.5cm. The white belt rack can be easy to dismount. Convenient, economical and practical.
[STURDY PLASTIC]: Made from smoothly finished plastic, ensures do not hurt the fabric. The non-slip arm can be hung in various places, such as kitchen and closet or anywhere, etc.
[EASY INSTALLATION]: Hold hanger vertically above the center hole in the base. Carefully put the split end of the hanger in the hold in base. Once both split ends are properly in the hole, press down firmly while rotating hanger back and forth.
Specifications:
- Color: White
- Material: high quality plastic
- Length: 4.9 inch / 12.5cm
- Height: 4.3 inch / 11cm

Features:
- Easy and convenient to store all your favorite ties or belts.
- Can hold and organize up to 6 ties or scarves in a small space, and keep them neat and tidy.
- Durable construction, thin space saving design also maximizes closet space.
- Non-slip and 360 degree rotating tie rack design, for making it easier for you to find the perfect tie every time.
- Standard hanger hook fits most sizes of hanger rails and closet rods, lightweight & convenient for home or office Organizer.

How to install:
1. Hold hanger vertically above the center hole in the base.
2. Carefully put the split end of the hanger in the hold in base.Once both split ends are properly in the hole, press down firmly while rotating hanger back and forth.
Package Includes: 2 Pack Tie Racks
ReachTop Amazon ASIN B07KMZ76W5 Home & Kitchen Storage & Organization , Clothing & Closet Storage , Accessory Organizers , Tie Racks
Liquid error (sections/product-template line 203): Could not find asset snippets/spreadr-reviews.liquid