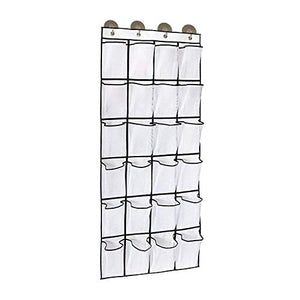 Reincome Over The Door Shoe Organizer 24 Pockets Non-Woven Fabric with 4 Adhesive Hooks Heavy Duty for Hat Gloves and Scarf Mesh Hanging Shoe Organizer, White
[OVER THE DOOR HANGING SHOE ORGANIZER] Organize up to 12 pairs of shoes without taking up valuable floor space.
[BREATHABLE MATERIAL] 24 clearly breathable mesh pockets, environmental friendly, health, safe and lightweight non-woven fabric material, the over door shoe rack protects shoes or items from dust and damage.
[EASY INSTALLATION] Mount the shoe organizer in a wardrobe, on any size door or a wall with 4 adhesive hooks, easily assembly, no hardware needed.
[VERSATILITY]Great for shoe storage, organizing kids toy, beauty accessories, Hat, Gloves,Scarf and more stuff in your bedroom, kitchen, baby room and college dorm room.
[WARRANTY] If there is any quality problem, we will provide you free replacement or full refund within TWO YEARS.
24 POCKETS OVER THE DOOR MESH SHOE ORGANIZER MEETS YOUR ORGANIZING NEEDS OF A COMFORTABLE HOME!

The 24 pockets organizer is made of Non-woven Fabric + Mesh Fabric, which is a breathable, environmental friendly, health, safe and lightweight material.

MESH FABRIC clear pockets design provides quick visibility. It will help you organize all the family stuff easily and efficiently.

With 4 adhesive hooks, you can hang the mesh hanging organizer in the wardrobe, on ANY SIZE door or a wall, NO HARDWARE NEEDED.


Great For Organizing Whatever You Want,and Everywhere Without Limit!

** Bedroom for shoes, hair straightener & curler, scarves, belts, sunglasses,even nursery products, etc.
** Kitchen for plastic wrap, gloves, spice packets or snacks, etc.
** Closet for underclothes like tights, panties, t-shirt, underwear and socks.
** College dorm room for keys, umbrellas, snacks, make up, gloves and hats, etc.
** Baby or kid room great for baby or kid stuff, clothes, toys and dolls.


INSTALLATION NOTE

Step 1. Stick the location map horizontally on the mounting surface.
Step 2. Align the position marks on the location map and stick the adhesive hooks to the mounting surface.
Step 3. Take away the location map.
Step 4. Hang the shoe organizer at least 24 hours after mounting the hooks, if you encounter a sticky hook drop, please inform me of the information in time, and you will immediately arrange a new metal hook and adhesive hook to you.
Please DO hang the shoe organizer at least TWENTY FOUR HOURS after mounting the hooks.

24 Pocket Heavy Duty Shoe Organizer Details

Color: White + Clear
Material: Non-woven Fabric + Mesh Fabric
Frame: 1*Over the Door Mesh Shoe Organizer + 4*Adhesive hooks + 1* Location Map
Organizer Size (L*H): 21.6 x 58.6 inches
Small pocket Size (L*H): 5.1 x 7.8 inches
Package Weight: 0.6lbs
Reincom Amazon ASIN B07K458B44 Home & Kitchen Storage & Organization , Clothing & Closet Storage , Shoe Organizers , Over the Door Shoe Organizers
Liquid error (sections/product-template line 203): Could not find asset snippets/spreadr-reviews.liquid