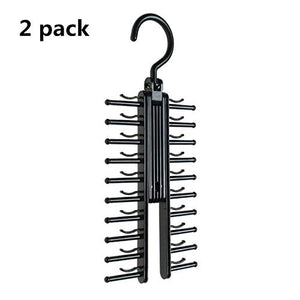 Tie Hanger Cross X Design Tight Wardrobe Tie Storage Bag for Men for 20 Ties (Color : Black)
Regular price $39.07 Sale
Non-slip design for up to 20 ties to help increase your wardrobe space and save space,There are 20 rounded knuckles on the rim to prevent the tie from falling off the rack and falling to the floor on.
Convenient for the tie organizer,allowing the hook to rotate 360 degrees,you can move the arm down to the X position to make it easier to place,remove or organize your tie.
Save space and fold the rack into an upright position to save more wardrobe space.
Multi-functional,can be loaded with scarves,chains,belts,etc.
Service:If you have any questions,please contact us and we will try our best to solve your problem.
Features:*Upgraded Very Secure Racks:Stays in both Upright/Extended X position.Hangers won't revert to X position with full 20 ties unless you want to rotate it to.*See everything to grab a tie more easily in X position* Holds securely up to 20 ties,space-saving and tidying up your closet* Clips prevent slipping,hold ties firmly in place* 360 degree rotating hanger hook for easy access.Size:11 * 5 * 1.4inches (Length * Width * Height)Color:BlackPackage Include:2 x Tie Hanger
Wagsuyun Amazon ASIN B07H5J7NJZ Home & Kitchen Storage & Organization , Clothing & Closet Storage , Accessory Organizers , Tie Racks
Liquid error (sections/product-template line 203): Could not find asset snippets/spreadr-reviews.liquid