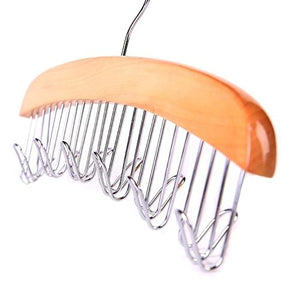 Tie Hanger, Windspeed Closet Hanging Rack Hook Organizer/Wood Multifunctional Accessories -Hold 24 Ties Hangers for Ties, Belts, Hat, Scarf, Clothes
Premium quality wooden tie hanger, organizer rack for up to 12 ties, Belt, Scarf,Clothing .
12 hooks Swivel hook hangs over your closet rod, Space save,
Smooth wood finish with 12 double pinned hooks - 6 on either side. very simple and useful design Strong swivel chrome hook.
Size:43.5CM X1.8CM
Secure and easily accessible, Organize all your tie, belts or scarves, clothing acceessory,
Durable hardwood
Windspeed Amazon ASIN B06XPJY2K2 Home & Kitchen Storage & Organization, Clothing & Closet Storage, Clothes Hangers, Suit Hangers
Liquid error (sections/product-template line 203): Could not find asset snippets/spreadr-reviews.liquid