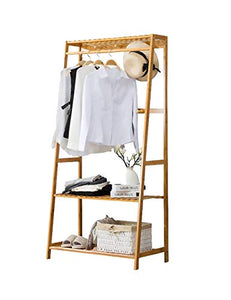 Ufine Bamboo Clothing Garment Rack Heavy Duty Coat Hanging Rack with 6 Hooks, 3 Tier Storage Shelves for Clothes Shoes Hats, in Entryway, Bedroom, Living Room, Guest Room, Apartment and Dorm
Regular price $79.99 Sale
100% Bamboo Clothes Coat Rack
Imported
Natural Bamboo Clothes Shelving
HOUSEHOLD CLOTH RACK-COMFORTABLEUfine garment shelves can be placed in the porch, foyers, hallway, living room, bedroom, balcony, bathroom, kitchen, helping you UNLOAD the FATIGUE by taking off bags, coats, shoes, replacing the Leisure wear. It will instantly bring you RELAX and PLEASANT. Hanging clothes up after wash/tumble drying reduces the need for ironing and folding and frequently take from wardrobe, SAVING YOU TIME. It helps eliminate clutter makes belongings easily accessible.
COMMERCIAL RACK-PROFESSIONALH65 x L31.5 x W16.9 inches, SPACE SAVING, can be placed in the office, conference reception rooms, dormitories, hotels, restaurants, supermarkets, clothing stores, classroom especially compact rooms. Intimate service provide employees a COMFORTABLE ENVIRONMENT and guest a GOOD IMPRESSION of ENTERPRISE by organize items standard, ORDERLY and NEATLY. 15.5lbs light weight, it can be MOVED according to the requirement no need disassemble and install.
LARGE/HEAVY DUTY/STEADY41.3" height above, better for HANG LONG COATS, no wrinkles; 15" height between board fits for various heights of shoes, BOOTS, and boxes; 31.5in WIDEN accommodate 10-20 CLOTHES, 4 pairs of SHOES, SUPPORT 50LBS; Side LADDER STRUCTURE, INCREASE the garment storage rack frame STABILITY; Four feet fully close to the ground, INCREASE the CONTACT SURFACE. Two sides and back support REINFORCEMENT, ensuring the clothes rack stable and durable for long term use.
4 TO 1 MULTIPLE USAGEUfine multi-functional free standing clothing rack can be used as CLOTH DRYING RACK, COAT RACK, SHOE RACK & LUGGAGE RACK. 3 Tiers drying rack hanging SHELVES allows you to store shoes, shoe boxes, bags, suitcase, plants, coats, hats, scarves, books, toys; 1 TOP HANGING ROD provides sufficient space to neatly hang your clothing, dresses, shirts, tees or trousers. 6 HOOKS, Ideal for robe, hats, coats, belts, bags, purse, scarves, dog leashes, etc.
HUMANIZED DESIGN-SAFEThe coat rack is made of 5 YEARS natural BAMBOO, durable after the high temperature (200) carbonization. THREE PROCESSES VARNISH treatment makes the surface smooth, WATERPROOF and easy clean. ROUND polish WOODEN HOOKS, NO hurting clothes and DEFORMATION; HIDDEN SCREW,no harm to family; HOLLOW LAMINATE, air permeability; High ZINC ALLOY tapping screws, highly FASTEN to avoid loosing.Install tools included for better assemble and disassemble.
Ufine Amazon ASIN B075ZL6FD7 Home & Kitchen Storage & Organization, Clothing & Closet Storage, Garment Racks
Liquid error (sections/product-template line 203): Could not find asset snippets/spreadr-reviews.liquid