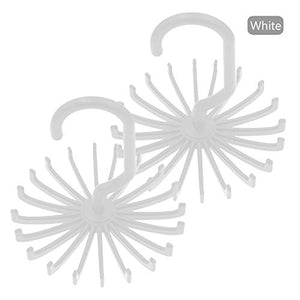 Unilive Tie Rack Storage Hooks - Multiple Use Belt Hanger Scarf Holder for Closet Organizers Storage,Adjustable Rotating 20 Hook - 2 Pack (White)
Regular price $10.38 Sale
MATERIAL:Light weight,durable,tie rack storage hooks made of plastic material.
MULTIPLE USAGE:Little tie rack holds and oraganizes 20 ties in a small space a great space saver for any closet.
ROTATABLE DESIGN:Simple round shaped design,360 degree rotatable design,strong and bendable(but not fragile),easy to pick up your tie.
REMOVABLE & PORTABLE:Removable hook allows for great portability when traveling.keep your ties,belts,bags,jewelries,or other scarf accessories well organized.perfect for everyone.
SPACE SAVER:Keep your closet organized with this hanging tie rack.provide more closet space to make your room tidy and clean.
Tie Rack Storage Hooks - Multiple Use Belt Hanger Scarf Holder for Closet Organizers Storage,Adjustable Rotating 20 Hook - 2 Pack

Features:
-Light weight,durable,made of plastic.
-His little tie rack holds and oraganizes 20 ties in a small space a great space saver for any closet.
-360 degree rotatable design,strong and bendable(but not fragile).
-Removable hook allows for great portability when traveling.
-keep your ties,belts,bags,jewelries,or other scarf accessories well organized.
-Provide more closet space to make your room tidy and clean.

Specifications:
Available Color:Black,White
Functions:Bedroom,Home
Materials:Plastic
Types:Storage Holders and Racks

Package:
2 x Holder
Unilive Amazon ASIN B07JB499BB Home & Kitchen Storage & Organization , Clothing & Closet Storage , Accessory Organizers , Tie Racks
Liquid error (sections/product-template line 203): Could not find asset snippets/spreadr-reviews.liquid