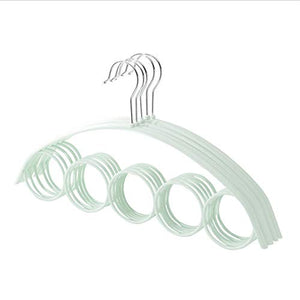 Wagsuyun Durable Scarf Tie Belt Hanger Storage Bag Holder 5 Chrome 5 Pieces (Color : Green)
Regular price $25.13 Sale
Simple organization:With this accessory organizer,you can easily add convenient custom storage to any wardrobe,all accessories are neat, organized,and equipped with these convenient helpers.
Suitable for men's ties,ladies and children's scarves,pantyhose,scarves.
Easy to use:This hanging closet storage bag only needs to be hung from the closet bar,no hardware or tools are required,just hang it up and use it.
Space saving:5 sections per organizer add extra storage wherever you need,ideal for homes,apartments,apartments,dormitories,campers,RVs, bedrooms,halls and mud bathrooms.
Package Included:5 x Tie Rack.Made of high-quality ABS material,the smooth finished plastic ensures that the fabric is not damaged and the anti-sliding arm holds the belt in place.This scarf stand is perfect for bedroom closets and can be used to store the entire scarf collection with just one hanger.six loops of the same size make it the perfect choice for all seasons of scarves, from thick winter scarves to thin summer shawls.Keep the scarves,ties,belts and pashminas organized,visible and easy to find,simply pass your favorite accessories through the hookless loop and hang on any wardrobe pole or hook.This scarf frame features a continuous loop design,which means you can hang and remove the scarf without worrying about accidentally hooking them.The durable scarf frame has a heavy-duty function and is simple in style.It is suitable for standard size wardrobe bars up to 1.5 inches in diameter and can be wiped clean with a damp cloth as needed.Service:If you have any questions,please contact us and we will try our best to solve your problem.
Wagsuyun Amazon ASIN B07H5KGPHG Home & Kitchen Storage & Organization , Clothing & Closet Storage , Accessory Organizers , Tie Racks
Liquid error (sections/product-template line 203): Could not find asset snippets/spreadr-reviews.liquid