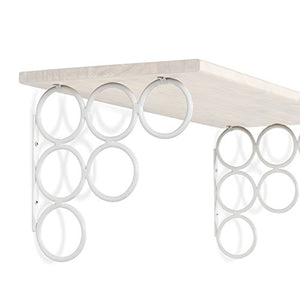 Wallniture Set of 4 Multi-Use Wall Mounted Brackets for Shelves - Brackets Only No Shelf Included -Scarves Crafts Office Products Iron White
Regular price $42.99 Sale
Sturdy and Durable Construction: Each bracket is 10.60 x 10.50 inches and each circle is 2.85 inches in diameter, so the design is spacious, practical and durable enough to fit a lot of your accessories, hanging outfits, scarves, crafting paper, blueprint files, etc.
Multi-Functional Installation: This set of 4 bundle offer comes with all the mounting hardware necessary for simple installation. With the strong metal anchors included in the packaging your brackets will stay flat to your wall surface. The best part, you can install them wherever you need quick, space-efficient storage and organization.
Turn it into a DIY Storage Rack: The brackets are great with a piece of wood plank placed over it, so you can use it as a custom wall shelf or utilize each one on its own mounted on the same wall or in different spaces.
Works Perfectly Inside Any Closet Space: Mount these brackets inside your closet wall space to create breathing room for the clothing hanging on the rod. The circles are great for hanging your scarves without snagging and easily creasing.
Craft Enthusiast's Dream Come True: With these brackets, you can tidy up your crafting room and create a storage space for the gift packaging material you have tucked inside your closet. Make your life easier with everything you need easy to reach at your fingertips.
Invest in a Multi-Functional Product You Can Use All Around Your Home to Organize Space-Efficiently…

Great for Any Office Space: Create your DIY shelving unit and organize your blueprint files in adequate fashion, so nothing gets lost in clutter.
Don't make your stressful working days even more frustrating with your projects harder to find in the midst of all the other clutter.

Not Just for Scarves, Great for Ties Too: These wall brackets are great for hanging a lot of accessories including, belts, ties, scarves and so much more.
If you don't have enough closet space, this set of 4 bundle offer is for you.
You can hang these on any empty wall space to add some rustic design and modern flair with ease.

Need to Organize Your Gift Wrapping Materials Your inner curator will embrace the possibilities of creating a custom storage unit with these brackets.
Great for storing and organizing all your gift-wrapping paper, bowties, tissue papers, scissors, tape, etc.

The Multi-Use Wall Brackets Will Help You To:
Create a stylish custom DIY shelving unit to store books, home decor, memorabilia, photos, etc.
Organize and create an extra storage space for all your accessories, office supplies, crafting material and so much more.
Give someone special an affordable gift purchased in the comfort of your home.

Specifications:
Material: Iron
Color: White
Each Bracket's Dimensions: 10.60" x 10.50"
Diameter of Each Circle: 2.85"

What is in the Package: 4 Multi-Purpose Wall Brackets
Mounting Screws and Zinc Anchors
Installation Manual
Wallniture Amazon ASIN B079SD7XYC Tools & Home Improvement Hardware , Shelf Brackets & Supports , Brackets
Liquid error (sections/product-template line 203): Could not find asset snippets/spreadr-reviews.liquid