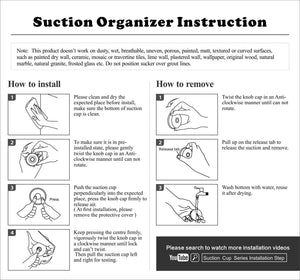 Yohom Stainless Steel 3-Piece vacuum Suction Cup Bathroom Kitchen Hardware Accessory Set with 18.5" Towel Bar Rack, 2 x Shower Robe Hooks Holder, Brushed Finish
Regular price $93.06 $66.00 Sale
Brand: YOHOM
Color: Towel Bar Set 22" L
Features:
★Yohom suction cups rail/hooks/holder kit only works on smooth clean dry flat and non-porous surface, such as glass, window, mirror, porcelain tile, glazed tile, acrylic, stainless steel, plastic surface, corian walls etc. Doesn't work on dusty, wet, breathable, uneven, porous, painted, matte, textured or curved surfaces such as PAINTED WALL, CERAMIC, Original WOOD, Natural Marble, Natural Granite, Mosaic or Travertine tiles, Plastered Wall, Lime Wall, Wallpaper.
★Removable suction holder hanger are made of premium grade stainless steel, while the suction cup is made of PVC (with STICKY back for your easily placement). Stainless steel brushed finish protect against corrosion & rust.
★Strong suction cup with the maximum loading of 11 lb to prevent slipping.Removable, reusable, practical, dampproof and waterproof. Place to any position, convenient for anyone who can't reach the holder.
★Towel bar rack,2 x robe hooks: Ideal for hanging your towels,robe, body brushes,clothes, hat, keys, bags, jackets and so on. The FREE magnetic holder rack with powerful high grade magnet can be used as a metal objects holder rack.
★Follow the instruction to install carefully. Press suction cup firmly to the wall and twist the knob cap by hands to finish installation and removal, while enhancing the beauty of your kitchen and bathroom. Convenient, no drilling, no screws.
Publisher: Foshan Yiwang Dangxian Network Technology Co.,Ltd
Details: Specifications
Specifications
Main Color:Silver&Black
Material:Stainless Steel
Model:YBX2211S-4
Style:Contemporary,Modern,Simple
Single rod length of bar:18.5"
Suggest max load:11lb
Finish:Brushed Finish

Feature
Yohom stainless steel suction cup bathroom kitchen hardware accessory set is removable, economic, practical, safe, flexible and repeatedly used.
Heavy duty contemporary style design,manufactured from premium-grade stainless steel,build to resist daily scratches, corrosions and tarnishing.
Suction cup backing is easy to place, remove and clean, with super powerful vacuum suction cup to prevent slipping.
FREE multipurpose magnetic holder rack, can be used as a metal kitchen utensils holder in kitchen, a key holder/bottle opener rack/scissors holder in living room, a belt rack/beauty tools storage rack in bedroom, a razor seat/trinket storage in bathroom, a tool holder in garage, metal office supplies storage rack in office.

Package contains
Suction cup towel rack*1
Suction cup towel hook*2
Suction cup magnetic holder*1

How to install
1.Before installation, please clean and dry the expected place, make sure the bottom of suction cup is clean.
2.To make sure it is in pre-installed state, please gently twist the knob cap in an Anti-clockwise manner until can not rotate.
3.Push the suction cup perpendicularly into the expected place, press the knob cap firmly to release air. (At first installation, please remove the protective cover)
4.One hand keeps pressing the centre firmly, another hand vigorously twists the knob cap in a clockwise manner until lock and can't twist. Then pull the suction cup left and right for testing.

How to remove
1.Twist the knob cap in an Anti-clockwise manner until can not rotate.
2.Pull up on the release tab to release the suction and remove.
3.Wash the bottom of suction cup with water, reuse it after drying.
UPC: 664248610362
EAN: 664248610362
Package Dimensions: 22.5 x 2.8 x 2.8 inches
Liquid error (sections/product-template line 203): Could not find asset snippets/spreadr-reviews.liquid